Getting ready for school was so easy. You never had to think about what you were wearing, you never had to dress up or down you just wore what you wore and it was the same as everyone else. When I started work I realised quite how much I missed that simplicity. So, inspired by that nostalgia, and my desire to embrace a little bit more minimalism in my life I created a work uniform. While I've not quite gone as far as Matilda Kahl, who wears the exact same outfit to work every day, I do follow the same template and I've really curated what's in my wardrobe.
I'm honestly so glad I've created a work uniform. Because I wear things from the same template every day, I don't have to spend time picking out an outfit. I'm also a lot happier and more comfortable in what I'm wearing. I know that my uniform suits me and that all of the pieces I own go together because I invested some time in working out what I wear the most and what made me feel the most confident. Having a relatively set work uniform is a great way to feel like you have your own sense of style, in part because you do, or at least I think I do a bit more now.
Putting a work uniform together is kind of like putting together a capsule, or minimal, wardrobe. To find mine I used the coat hanger method, which is where you hang all your coat hangers the wrong way around, then turn them back when you've worn a piece. It's a super simple way of working out what you do and don't wear. I realised I wore trousers every day, but ignored the dresses and skirt I had taking up space. Once you know what you wear the most, refine that list down to 2 or 3 key outfit templates.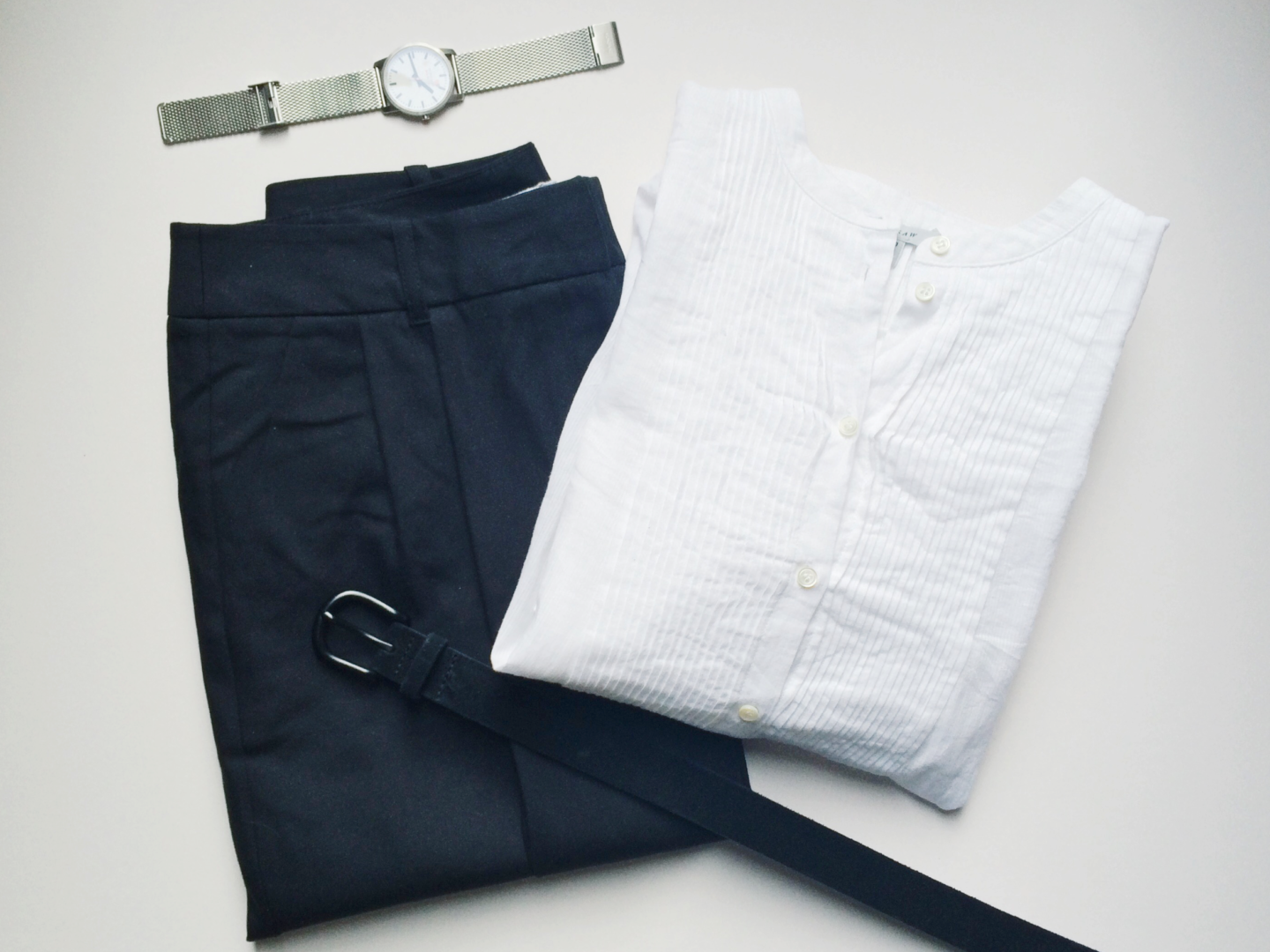 My work uniform is pretty basic. I wear the same black trousers (I own 2 pairs don't worry) every day. They're from Finery and are a mid-rise slightly cropped style. I'd like them to be a little wider on the calf, but they've been through a lot and worn well so I'm not going to complain. I wear the same pair of mono 1461 Doc Martens, unless I have a client meeting then I'll wear a slightly less beaten pair of dual Monkton strap Docs. I do change up my choice of top, though. If it's warm outside I'll wear a collarless shirt, normally in white, although I do have one in dark grey I really like too. Sometimes I'll wear a plain white shirt instead, but that's only if it's a casual day in the office. If it's chillier I'll wear a high neck jumper, with a t-shirt underneath. That's about it, I don't really wear many accessories other than my watch, Datter rings, and OMCH earrings, which I wear every day, and a plain black suede belt.
My uniform has seen me through placements in consulting, PR, and advertising and I've never felt out of place. I'd advise anyone starting a waiting a few weeks before you start the process so you know the kind of level of formality that's expected. If, like me, you're in a position where you're moving offices and environments I'd suggest going somewhere non-committally smart casual, like a nice shirt and trousers or a simple dress that way you should be somewhere in the spectrum of what's acceptable wherever you are and you can easily dress it up, or down, a little bit.
If you're interested in minimal wardrobes more widely, which if you've gotten to the bottom of this you just might be, I'd highly recommend checking out Sophie's blog The Life of a Private Girl, because it's been a huge help/inspiration to me on my journey to becoming a bit more of a minimalist.