I have, like many people right now, been interested in pursuing a more minimal lifestyle. I've spent hours reading The Private Life of a Girl and The Minimalists, cut down my wardrobe and my excess. I've become more mindful of everything I buy from food to books. I'm definitely not a poster girl for a minimal lifestyle. I probably still have too much. But I'm trying and I'm conscious of the affect my consumption has on my own psyche and the wider world. I'm doing it in my own way, which I personally think is more important than following any "rules".
But the one area I haven't explored is my creative practice. On the one hand, I'm excited to embrace minimalism wherever I can. On the other hand, I personally think some elements of producing creative work just can't exist within a minimalist frame. All creative work comes from collecting information and inspiration from other sources, the more the better, that act of collection, of active consumption of as much as you can seem diametrically opposed to minimalism. Similarly, to make good work, you have to make a lot of bad work. You have to keep making and producing and putting more into to the world, which again can't fit into minimalism.
That said there are things we can do as creative to work more simply and be more conscious of how much we're consuming and wasting. Here are the five ways I'm trying to incorporate minimalism into my work.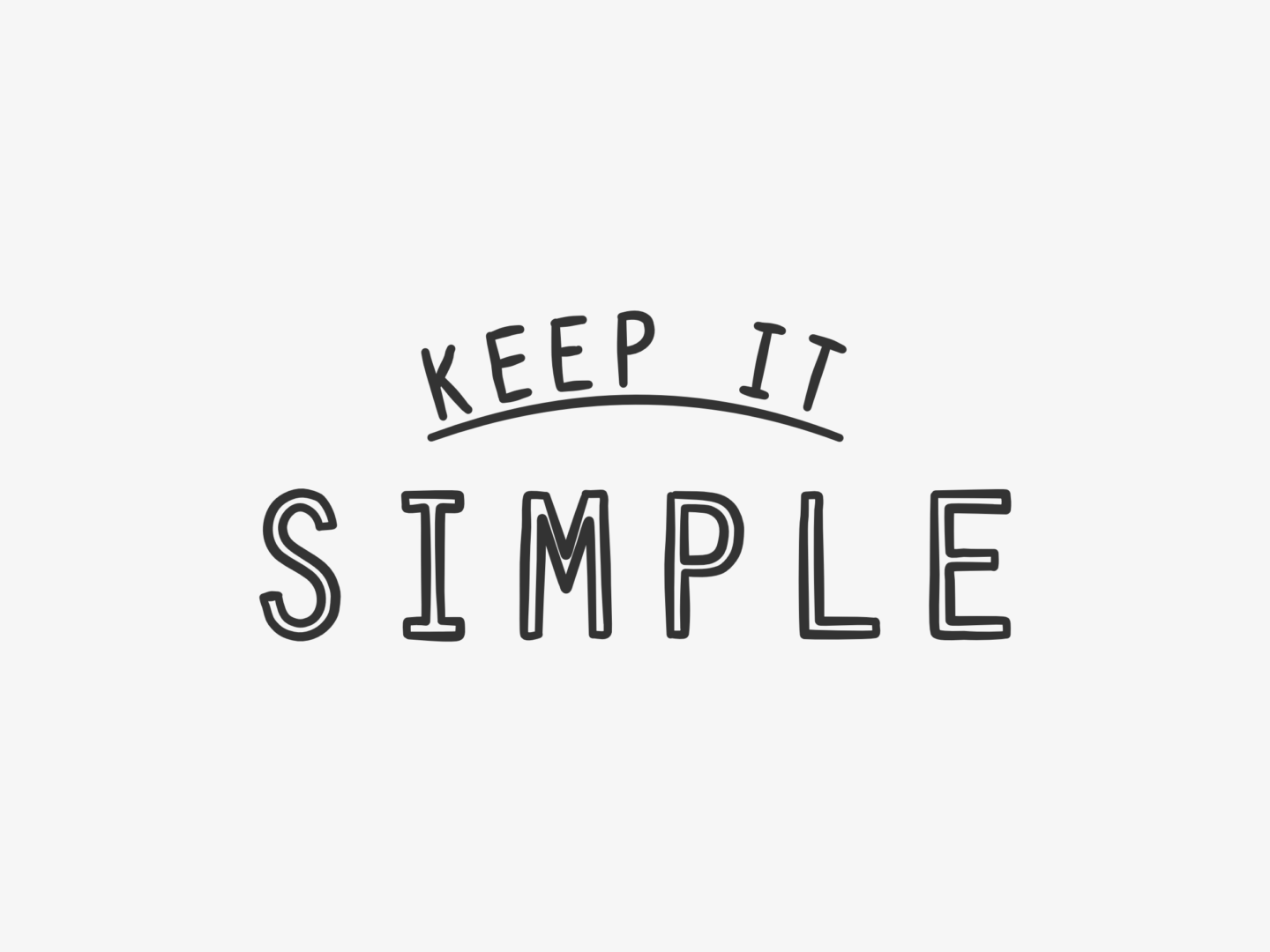 WORKSPACE
Having lots of things in your works space can serve as a distraction, and a handy excuse to hoard. So, I have cleared my desk almost completely. All that stays there now is my laptop, my notebooks (sketchbook, journal, diary), my pot of pens and a jug of water. These are the essentials I need pretty much whatever I'm doing. Then I bring in whatever else I'm working on and just focus on that one piece of work or collection of images. As someone who's very tidy desk, tidy mind orientated it's made me a lot calmer and meant that I work much more efficiently because I'm not rifling through papers or feeling like I don't have enough space. That said I do still have prints I love up above my desk – as I said, I'm not perfect with this decluttering malarkey. Have a think about the things you actually need to have to hand, you might find that by clearing away the excess you, as well as your desk, find a new focus.
UNIFORM
I've written before about my work uniform. I have a set collection of clothes I wear for work, and now my free time too. It's not so much a capsule wardrobe. It's probably not quite small enough, and I don't swap anything out seasonally. But by limiting my choices and only having things I actually enjoy wearing in my wardrobe, I have saved so much time, reduced my decision fatigue, and also felt way less of a need to buy new clothes – other when that heat wave took London! Plus getting into my set uniform always gets me into the right mindset for work.
RESOURCES
I know I said earlier that constantly creating is, at least to me, not in keeping with the minimalist mindset, but that doesn't mean you can't reduce the amount of waste you produce. Make the most of all of your resources and use them cleverly. That can mean anything from using both sides of sketchbook pages to reusing old artworks in cards or gifts, collecting scraps of paper to make rough books, reducing the amount you print, working more digitally, or even just working in batches to get the most out of whatever you're using. I'm attempting slowly to do all of these a little bit more, and I really am finding that my bin is filling up far slower and I'm approaching my work in new ways which is actually making me more creative in my work.
CURATING
Just because you create loads, doesn't mean you have to share it all. Curating what goes on display and only showing the pieces you really love or that have a story to tell is a really nice way to both up the quality of your online (or physical) presence and embrace a more minimal, thought through approach to your work. This is something I've been working on a lot in creating my portfolio.
SAYING NO
Minimalism encourages you to focus on only consuming what you need and what makes you happy, things of quality. I think the same logic applies to work as well. You should only take on the jobs (within reason, taking into account the fact you have to earn enough to live) that you are going to find fulfilling. Before you say yes to taking on a new project, ask yourself: do I have enough time, mental space, and energy to do this? Will I enjoy working on this project? Will I be left with an outcome I am proud of? Is this something I really want to do? I'm still not very good at this, but I'm trying, and eventually, I'll get there.
Are you trying to live a simpler lifestyle? What's working for you?