This is a post I've had in the back of my mind to write for quite a while, but for some reason, I've never got round to it until now because I've received a few questions about the materials I use, so I thought I'd just share the list publicly. Now, these aren't all of the things I use. There's still a load of random crap in my art bag and the odd digital project requires something extra. But these are the main things I use when creating my designs.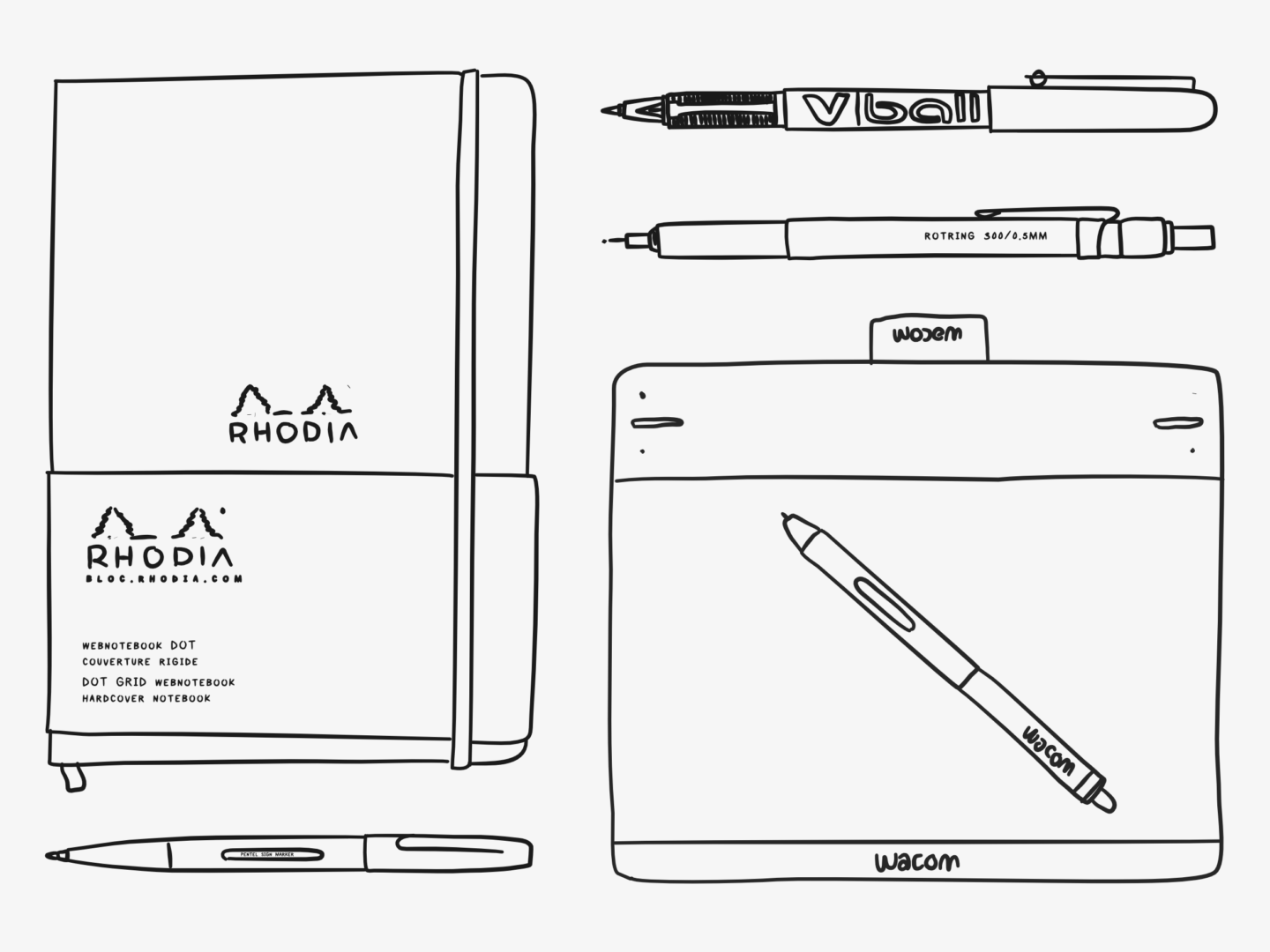 DIGITAL
TABLET – WACOM INTUOS PEN & TOUCH
The moment I bought my first tablet it changed my world. That might be too far, but it opened a lot of options up for me and made everything I did easier and quicker. You can't really go wrong with Wacom. You don't need of their more complex offerings if you're just starting, I still use the Intuos Pen and Touch. I would recommend going for one that's around A4 size (usually a Wacom Medium), anything smaller and you don't get as much creative freedom, anything bigger can be hard to lug around and will obviously be pricier. I think my first tablet was only £20 second hand from eBay, and you can get similar ones today for well under £100. Now mine is about 3 years old (and already second-hand) it's starting to act up a little and now always connect to my laptop, but I still couldn't work without it.
PROGRAMMES – AFFINITY DESIGNER & PHOTO
I've spoken at length about Affinity Designer and done a full review, but basically, it's a really powerful design tool that's cheaper and so much easier to pick up than Adobe Illustrator. It's all I use for my illustrations, and any graphic design work I do. I've now completely got rid of Creative Suite and turned completely to Affinity after trying Affinity Photo. There's nothing that I feel like I'm lacking without it, apart from a hefty monthly bill.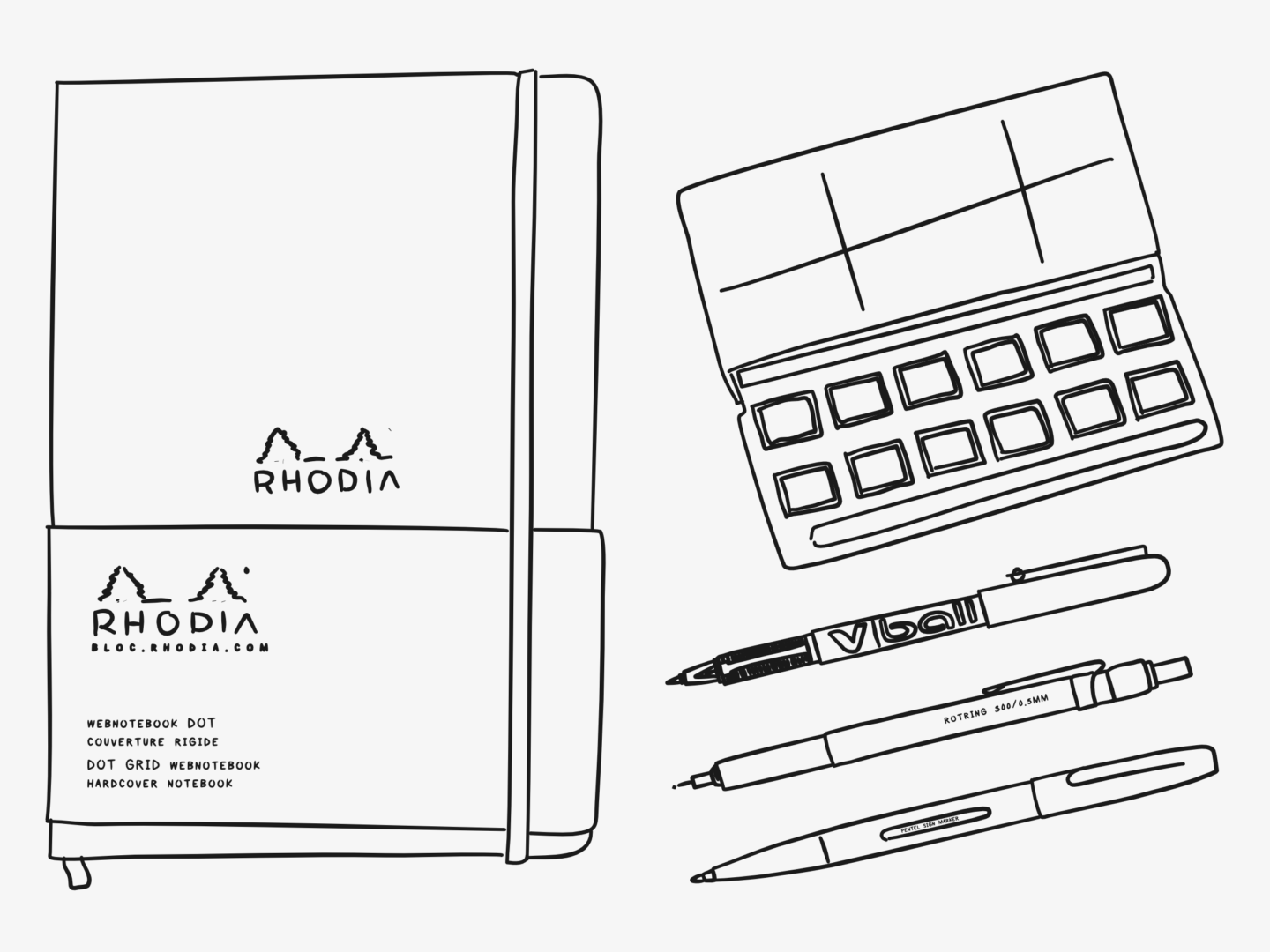 TRADITIONAL
BULLET JOURNAL – RHODIA
I have been using a Rhodia Webnotebook as my bullet journal for the past four years or so. I previously used various incarnation of Moleskine, squared, diary, A5, pocket, but as soon as I used my first Rhodia Notebook I wasn't going back. For me, it's all about the paper.  It's so smooth. There's no bleed through, there's no feathering. It is a pleasure to write on, and I don't say that lightly. Also, dot grid paper is the only way to go. It allows you to line up your writing whilst giving you plenty of freedom and still leaving the page mainly free compared to squared pages. Plus I love that it's orange! I can almost always spot it across the office, and everyone knows which one is mine. The soft touch hardcover wears really well and is always easy to spot in the office. It's also worth noting the elastic fastener, ribbon and back pocket are all properly sturdy as well. They're also just the perfect size for a year's worth of journaling. It's safe to say I'm a little bit in love with this notebook, even now that I'm on my 5th I think.
SKETCHBOOK
As much as I've just said I'm a Rhodia fanatic, my other two main notebooks are Moleskines. I use a Moleskine Sketchbook as, well, my sketchbook. I love the thickness of the paper and how well it holds inks. The pages lay flat meaning its easy to work on. Plus there's just something about the warm slight off-white of the paper that makes it less daunting to fill. Before I was using this Moleskine I had a slightly battered Sea Whites sketchbook. While I prefer the paper of the Moleskine and the fact it isn't as chunky, I'm not sure if I will repurchase another one purely on cost. The Moleskine I'm using right now was a gift, and I'm not sure if I can justify another £20 or so. I also still work on drafts on rough scraps of paper I have lying around as well, I wasn't sure if they needed their own section.
DIARY – MOLESKINE NOTEBOOK
I also use a pocket dot grid Moleskine as my journal/diary. I would definitely have chosen a Rhodia in its place, but the pocket sizes in hardback were proving too tricky to find at the time I wanted mine. There's a slight bleed through between pages that I've had to grow to love, but other than that it does the job very well. I write at least one good thing that happened every day in there. I started it at the beginning of this year, and so far I've kept up the habit. Despite the daily use, I've barely made a dent in it, so I think I'll have this as my diary for the next 3-5 years, which is really nice. It's decorated with my beloved feelings sticker from Adam JK – if anyone has any of his "It's not all sunshine and roses" stickers treasure them/send them to me!
WATERCOLOUR PAPER – HOT PRESS PAPER
It's smooth and lovely to draw and paint on. I got it because it was once on offer in CASS Art and I haven't really ever wanted anything else for more "finished" traditional pieces.
PENCIL – ROTRING 300 MECHANICAL PENCIL
I never used to get mechanical pencils. The ones I'd used all broke instantly, scratched the paper and were generally horrible to draw with. But I'd heard so many nice things about them that I decided to give them one more chance, and after quizzing an assistant at London Graphics and trying out everything they had in stock, I settled on the Rotring 300 in 0.5mm. And you know what, I love it. It's comfortable to hold and to draw with. The even with of line really suits my style now and works particularly well if I'm writing or doing thumbnail sketches which is actually a lot of what I do. I have two now one with HB lead and one with B. I'd really like a coloured lead as well, but I haven't found anything I like. I've tried the Pentel coloured leads but they have hardly any payoff and snap like no one's business – let me know if there are any you think I should try!
WRITING PEN – PILOT VBALL 0.5
There's nothing too special about this pen. It just writes really nicely. I have it in black, blue, red, pink, purple, green and turquoise, but I mainly just use the black ones. It's smooth and comes out with a good even deep black line. 0.5 is the perfect width for the size of my handwriting and the size of the dot grid – and is clearly the only size I like because it's what I have my pencils in too.
FELT PENS – PENTEL SIGN PEN
These are my favourite felt pens. You can vary the width you're using without the nib being too brushlike if that makes sense. I also really like Tombow brush pens (for the exact opposite reason) and for the washes of colour you can create with the lighter colours.
INKS – WINDSOR & NEWTON DRAWING INKS
These are the inks I use when I'm colouring/outlining a lot of my work. I mainly just use the black, but I also have the slightly temperamental gold as well. I'm not hugely wedded to these inks though – so if you have any good recommendations hit me up!
WATERCOLOURS
This little travel set has been the perfect thing to get me back into painting and playing with colour without having to over-commit. There's a great range of colours to start out, and they've all painted well enough for what I've needed. I particularly like that they're all so contained with means it's easy to store as a palette but also to carry around if I want something to travel with.
CAMERA – IPHONE 7
I don't actually have a camera anymore, so I rely on my phone. I already always have it with me so it's great for reference photos, and the quality on phone cameras these days is so good that most of the time I don't mind not having a real camera. That said, if I ever win the lottery/managed to have a bit more saved up buying a nice camera is definitely on my to get list.