Not sure I would be much of a blogger these days without doing a run down of my christmas favourites, so here it is, a list of 10 things I've been loving this festive season.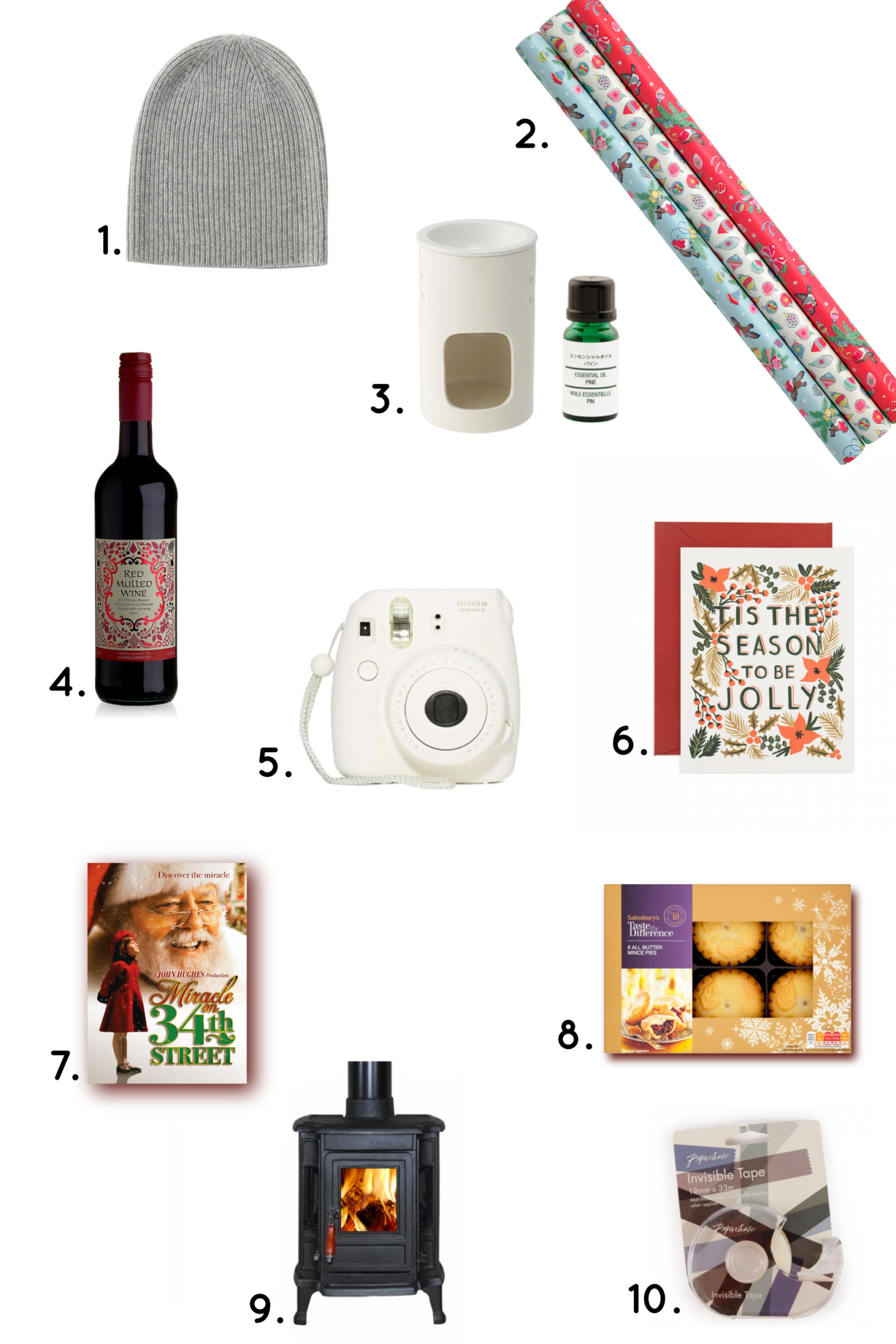 I'm not much of a hat person but this cashmere number has been keeping me warm all winter, so much so I'm not sure I'm going to take it off.
Wrapping paper was one of the hardest picks for me this year, nothing has really reached out and grabbed me, but in the end I went with this trio from Cath Kidston because it made me nostalgic for Christmases from before I knew what Christmas was.
I've recently become a bit obsessed with my oil burner, I think the mix of lavender and geranium essential oil might actually be my version of catnip. Now it's Christmas I've been going with cinnamon and pine scents though.
Now I'm a "grown up" (quotes definitely needed) mulled wine is one of the things I look forward to the most about winter. This is the reasonably priced best supermarket bottle I've had so far.
My polaroid camera is a favourite all year round, but I'm making a special effort to use it more over the holidays because I'm getting to see so many people I love.
I've lusted over Rifle Paper's stationery for a long while, but this Christmas I finally took the plunge and bought these cards amongst others, and I don't regret it at all.

Miracle on 34

th

Street  couldn't not be a festive favourite.

Mince pies are always a favourite, this year I've been reaching for these ones from sainsbury's.
 

This is technically a bit of a cheat, because I've not got to experience it yet this festive period, but something I'm really looking forward to being reunited with at home is the wood burning stove.

Perhaps not the most exciting but this invisible tape has seen me through many festive periods before and hasn't let me down yet. It's not an over statement to say that this little dispenser changed my life.