I probably spend too much of my time on youtube, but there's so much great content out there and it's so easy to get sucked into the blackhole that is the automatic play function. The more time I spend on there, the more favourites I find. I wanted to share some of those discoveries with you to expand your subscription boxes and your creative inspiration.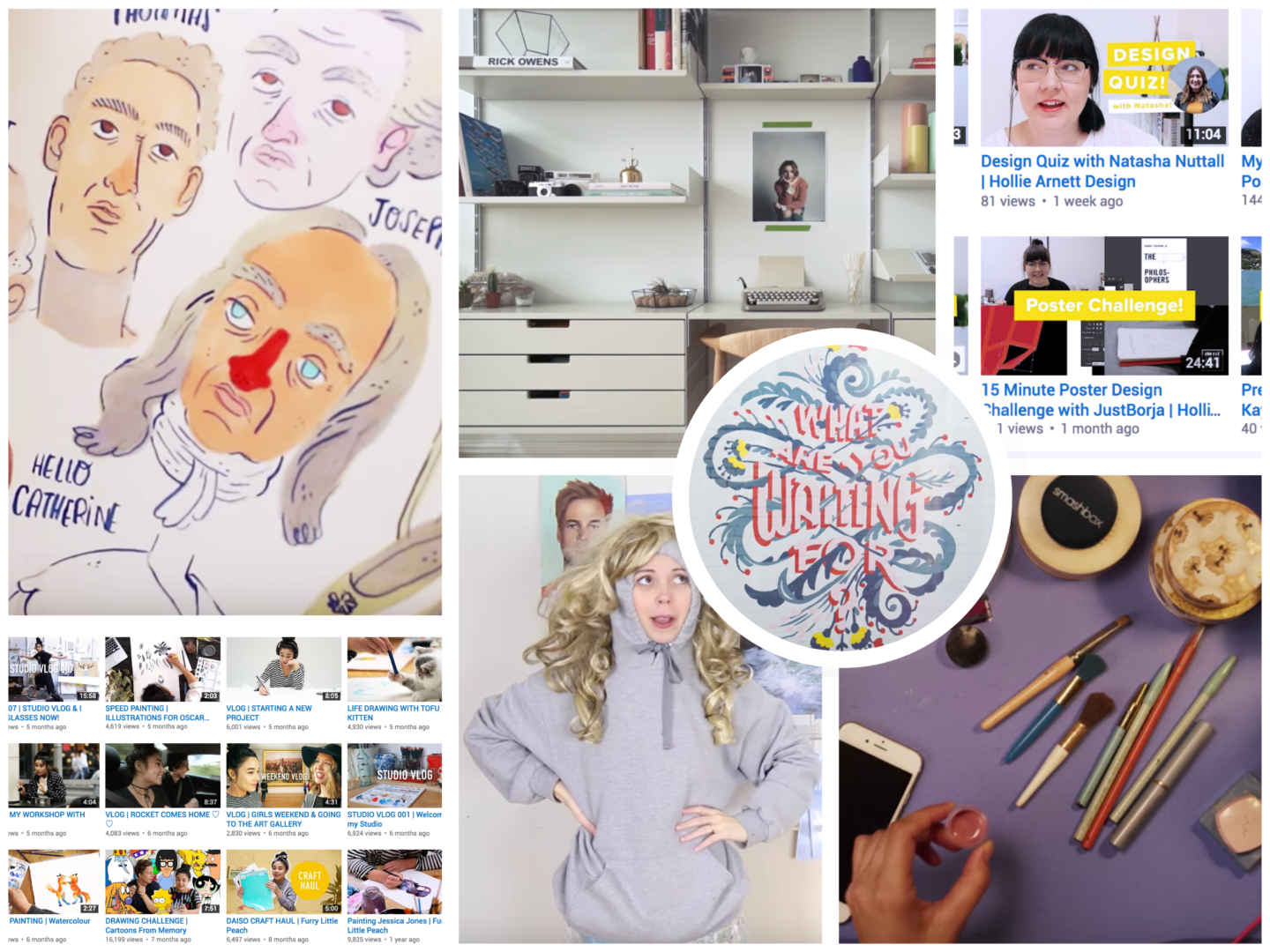 ARTISTS AND DESIGNERS
Natasha was the first design youtuber I watch and subscribed to, and her videos kind of led to a whole day of design-tube binge watching. Her videos cover every and anything design-y and they're awesome. I've particularly loved all of her London recommendations and vlogs, as someone who lives in the big smoke. Her unboxings and reviews are ace as well, as, in fact, is all of the rest of her content. If you like this list, Natasha has two really great lists of creative youtubers on her blog, which really helped get me into the creative side of youtube (This is the first one, and here's the second).
Hollie is a designer from New Zealand, and she just seems like the loveliest person (very much on my list of people I wish I could be friends with list). As well as some really useful advice videos, Hollie also does the occasional graphic design challenge on her channel, which are some of my favourite videos to watch because you get to see someone's work process in hyperdrive.
Robin's paintings are absolutely stunning, but that's not why I love her channel. I love her channel because she's hilarious. She makes pure comedy gold out of the things every artist has thought, or felt, or done, or had said to them.
Sha'an d'Anthes AKA Furry Little Peach is an Australian illustrator and artist living and working in Australia, which is kind of my dream. Her work is gorgeous and I absolutely love her studio tours and getting to watch her work. If you're looking for some really lovely relaxed design videos that will leave you in a good mood, I highly recommend checking her out. Fingers crossed she posts some more videos soon!
I love the Sad Ghost Club wherever they are. If you don't know them already, The Sad Ghost Club is a club for anyone who's ever felt sad or lost, which is kind of everyone at some point. Their youtube channel is still quite new, but their sketchbook club is so lovely.
As well as being one of my favourite blogs to read, The House that Lars Built (AKA Brittany Watson Jepsen) also makes some of my absolute favourite videos on youtube. They are beautifully shot and produced craft videos. I feel like calling them craft videos underplays it, perhaps aspirational DIY or mind blowing make and do projects might be better, either way everything Brittany makes is stunning and makes me want to be better.
I've been a huge fan of Fran's illustrations for absolutely ages, so when I discovered she had a youtube channel I was more than a little bit excited. As well as discussing her own work and showing her process, Fran talks really honestly about life as an artist in a way that's really lovely and refreshing.
Logo designer Will Paterson, is one of the most popular design-tubers with good reason. He mainly focuses on logo design, brand identity and Adobe Illustrator. Will's laid back style make his videos so easy to watch, which means you find you're learning things without even realising.
Charli is a freelance designer based in the UK and all round super cool lady. Her videos are about everything from branding, to designing t-shirts and apparel to working with clients. Her enthusiasm about what she does really shines through her videos and always inspires me to get going.
LIFESTYLE
When I grow up I want to dress like Lizzy Hadfield. Not only is Lizzy's style in-credible, she makes really useful videos, her testing basics videos are the kind of fashion review that are genuinely useful rather than just fluffy sales tools. She also makes some of my absolute favourite vlogs, because she really feels like a friend and her accent kind of makes me think of home.
I just like watching Anna's videos, that's all I have to say – I really enjoy them.
Everything Estee Lalonde does is beautifully curated, whether that's her home, her style, or her stunning book Bloom. I really aspire to that level of clarity of vision. Her dog reggie is a babe too – note to all youtubers out there I can and will be won over by the inclusion of a dog in your videos.
You could classify Arden as another beauty/style youtuber, that's certainly where she started out. But, for me, her most inspirational videos are her more produced shorts like Almost Adulting, which she made to promote her book of the same name (it looks awesome). I promise after watching her videos your life will get a whole lot more sassy.
OTHER INSPIRATION
As I mentioned in my first Book Club post, Ariel Bissett has really helped reignite my passion for reading because she always just seems so damn excited to have a book in her hand.
Watching Do Not Settle's videos is like getting to travel the world with a supercool architect friend who points out all of the most interesting buildings and elements in your surroundings. I genuinely think watching their videos has changed how I see the world a little bit.
I feel like Casey is already so well subscribe to on youtube that there's not really any point in mentioning him. Nevertheless, this list would be remiss without him on it, his ethos of just taking his gear with him and getting the shot without being precious is something that's really inspired me and made me want to get better at not worrying and just doing the work.
Who else should I be watching?