In our office, as in pretty much every office in the country if not the world, you are never more than a metre away from a ballpoint pen. They are everywhere. The majority are BIC biros, but you've got all kinds from the fanciest ink ballpoints to the branded versions given out by clients, competitors, and everyone in-between.
While the ballpoint pen is known as a relatively modern invention, the first patent for one was issued in October of 1888 to John Loud. Loud was a leather tanner who desperately wanted to make himself a pen that could write on hides, and his design was based around the idea of a ball in a socket which allowed the ink to roll out. Unfortunately, Loud wasn't able to make a pen that worked well enough to be commercially successful and his patent lapsed and his attempt was largely forgotten.
Enter Laszlo Biro. Biro was a journalist, so he was always writing and always frustrated by the unreliable and leaky fountain pens he had to use. That was until he happened upon a printing press in Budapest where he saw how fast the new ink they were using could dry, that's when in his own words he started "thinking how this process could be simplified right down to the level of an ordinary pen." But he didn't just think he invented the pen that would solve the problem he faced on a day to day basis.
Biro's invention had two key components. First, he used a tiny tungsten ball bearing at the tip of the pen in a socket that meant it could roll easily. That ball bearing was constantly inked by a pressurised tube of ink, much in the same way as printing rollers are constantly inked. That pressurised tube meant it was more reliable than previous pens which relied on gravity. The second key component, was the ink his brother György, a chemist, helped him developed which was inspired by the fast-drying ink used in the newspaper printing process.
After being forced to flee from Hungary when war broke out, in 1944, Biro received his first major order of his 'Eterpen' which was quickly rebranded to the 'Biro' from the RAF. The ordered 30,000 pens, which retailed at that point for the equivalent £27 because they lasted longer and were easier to transport than fountain pens. However, their main selling feature was that the Biro, unlike other pens, still worked at high altitudes meaning it could be used by pilots wherever they were.
After World War II, the pen entered into commercial production. Even though Eversharp secured the rights to Biro's design in North America and was primed to be the company to bring the Biro to a mass market, Milton Reynolds of Reynolds International Pen Co. had other ideas. On a trip to Buenos Aires Reynolds saw the Biro and its potential and decided to make his own. So, he bought a handful of pens and brought them back to the states with him, and after taking them apart made his own version.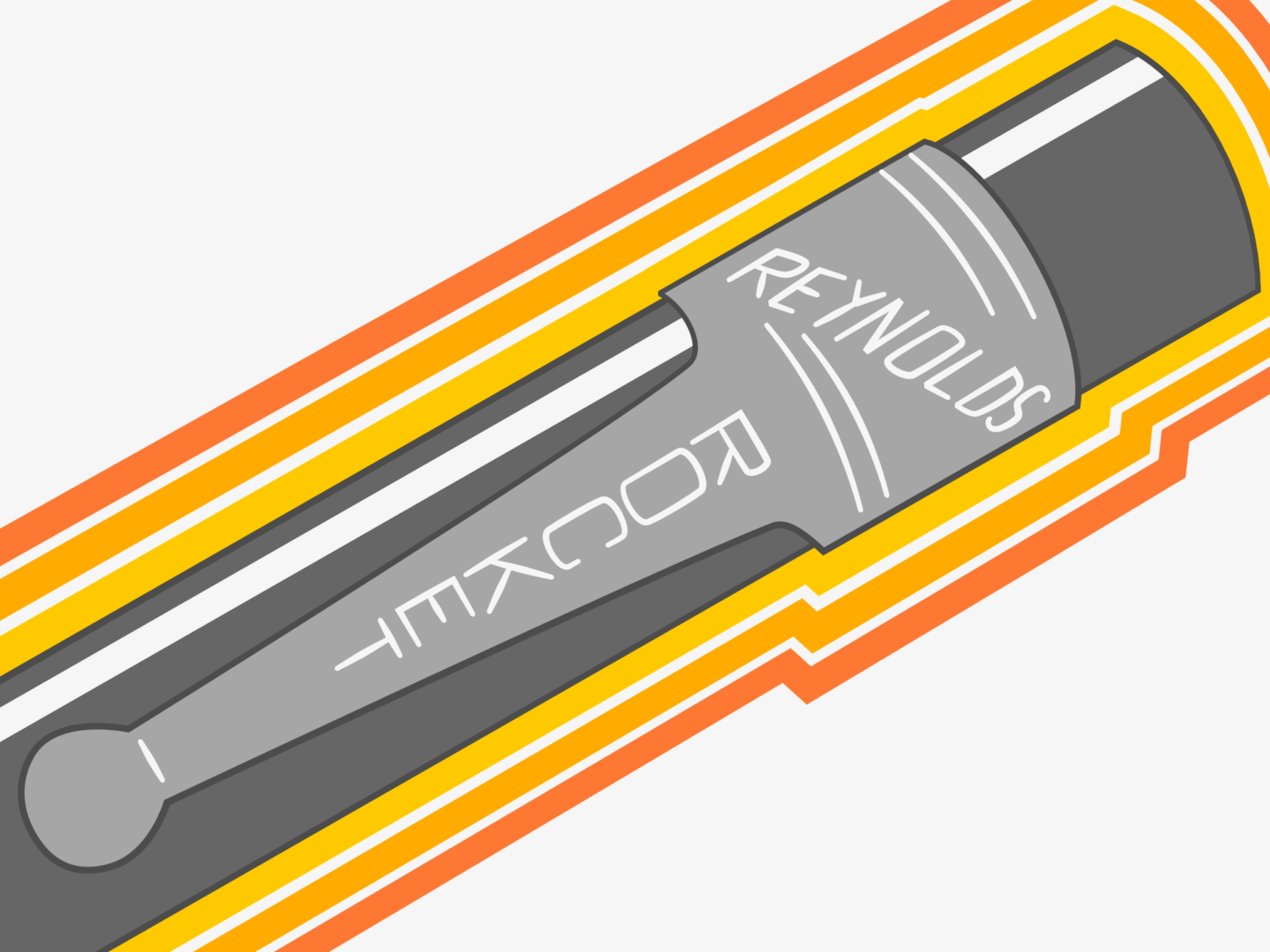 Lawsuits were filed. Insults were thrown. Manufacturing races were had. But Reynolds managed to get his pen, the Reynolds Rocket to the market first on October 29th 1945. I think this description from Time really captures what must have been such an exciting moment in history.
Reynold's head start paid off. Within 6 months they had made around $5.6 million in sales. But their pens gained a reputation for poor quality. Approximately 1 in every 20 sold was returned. This shoddy craftsmanship allowed the French company BIC, owned by Michel Bich, to start to take over the market. Working to Biro's patent and separating the pen into 8 component parts, all manufactured by BIC, Bich was able not only to build a superior quality pen but also reduce costs. In 1950, the BIC Cristal pen was launched. In less than a decade, it was the most popular pen of all time. But, however hard Bich tried and however much money was spent on marketing, the ballpoint pen Bich sold would always be known as a Biro.
I love that both Loud and Biro designed their ballpoint pens as a way to overcome problems they faced in their day to day lives, taking inspiration from the materials around them. There's probably some kind of profound message about designing the world you want rather than settling for the one you have in that, but I mainly just think It's pretty cool. The next time you use a ballpoint spare a thought for the men who designed it, the men who fought to produce it, and the inky smudgy world we might live in without them.
Are there any more design stories you'd like to hear about? Let me know!
Key Sources: