If there's anything I'm known for in the office other than being the resident grad, and my sparkling personality, it's my journal. Whenever I move office, I get at least a couple of comments on it a day, because it sits open on my desk, it's orange and I guess people are intrigued by my tiny handwriting. So, I figured, if it's interesting enough for office folk to ask about it, it might just about be interesting enough to share with you guys.
First off, I would like to say that I'm not sure if what I do is technically a bullet journal, is there an official definition? Can someone let me know? But it does keep me organised and make me feel much more together than I actually am which is all I can ask it to do.
My journal has been through many incarnations and permutations as my life and career have changed. Initially, it was inspired by the homework planner I had to carry around in school. Then it was just a book of lists. Then back to being a day by day to do list in a diary. Then it was my attempt to make something like the journals I saw on studyblrs. Then after all of that, it came out as something that worked for me. Something that included all of the things I needed my lists, my habits, my key dates, in a format that worked for me still day by day but in an undated notebook on dotted paper, that looked how I wanted it to neat and practical but still attractive.
It's an ongoing process still though, and I'm sure that as my life changes so will the journal I use to organise it.
I think journals are just so personal that I didn't really want to do a top tips style post because the only tip I have is try things out and make a journal that works for you. So instead, I thought I'd share a few of the bits and pieces that make my journal my own and why I choose to do them in the way that I do.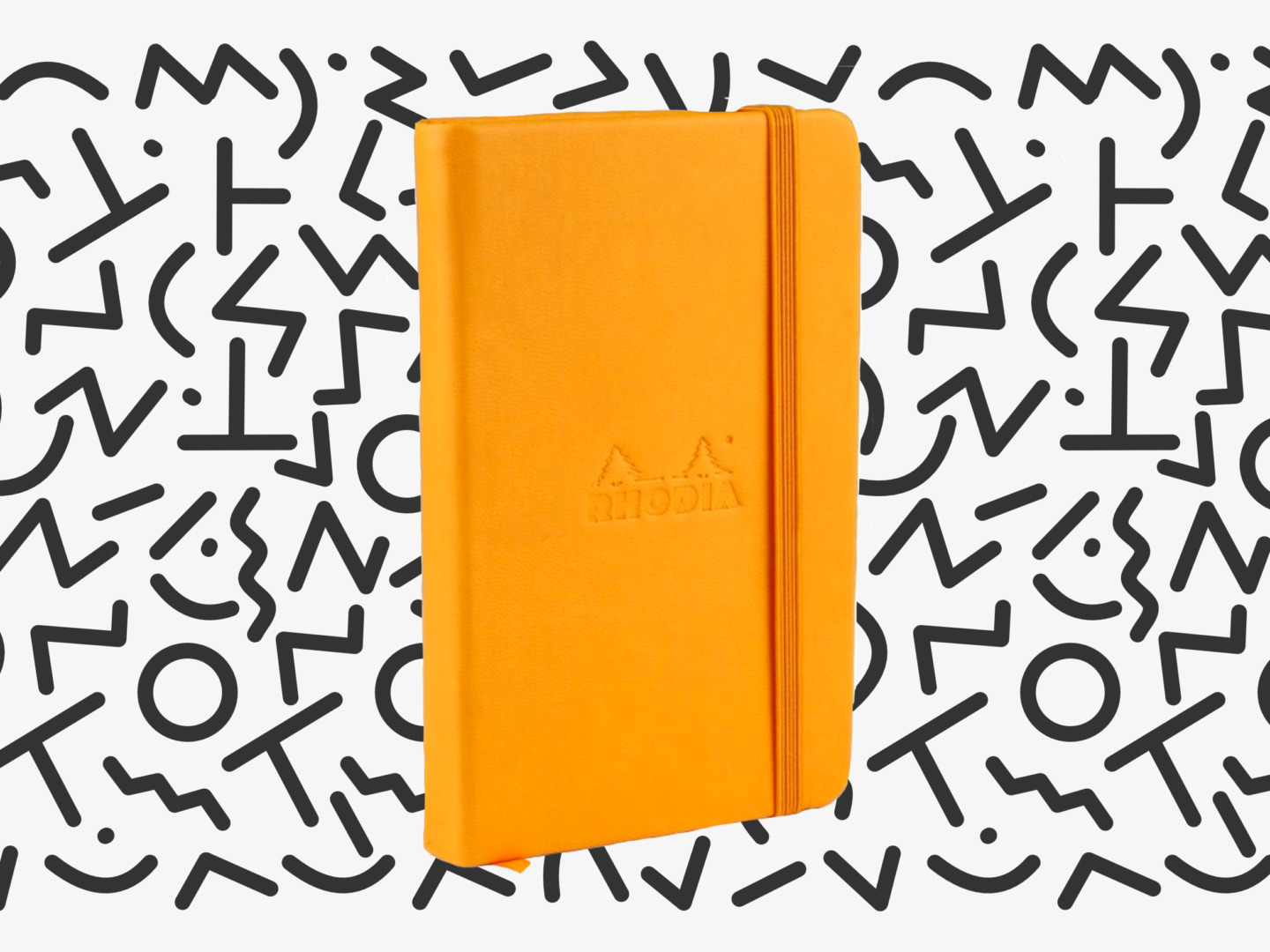 TOOLS
RHODIA WEB NOTEBOOK WITH DOT GRID PAPER IN ORANGE
I previously used various incarnation of Moleskine, squared, diary, A5, pocket, but as soon as I used my first Rhodia Notebook I wasn't going back. First, let's discuss the paper.  It's so smooth. There's n no bleed through, there's no feathering. It is a pleasure to write on. Second, dot grid paper is the only way to go. It allows you to line up your writing whilst giving you plenty of freedom and still leaving the page mainly free compared to squared pages. Third, it's orange! The soft touch hard cover wears really well, and is always easy to spot in the office. It's also worth noting the elastic fastener, ribbon and back pocket are all properly sturdy as well. In the past, they lasted me around 6 months, but with the style I'm using I think it's going to be more like 9 months to a year. It's safe to say I'm a little bit in love with this notebook, even now that I'm on my 5th I think.
There's nothing too special about this pen. It just writes really nicely. It's smooth and comes out with a good even deep black line. 0.5 is the perfect width for the size of my handwriting and the size of the dot grid.
I like to include any lists e.g. shopping or packing lists, any schedules, or any other miscellany on post it notes. It separates them from the main body of my journal and means they can be moved around or taken out in the case of my shopping list. I keep a stash of yellow square post its in the back pocket of my notebook. But I try and change the colour up as much as I can because it's probably the only fun element to my journal. I am particularly partial to the light pink rectangular ones for schedules or longer lists.
The calendar that's stuck into the front cover of my journal is a new addition. I realised I was struggling to joy down dates further in the future than a week and I was having to turn to digital solutions, so I decided to make a little calendar. I like having a centralised monthly spread rather than waiting every month to draw a new one out. Mine is made out of 12 pages of one of those coloured note blocks and I love it. It's just big enough to include everything and just small enough not to intrude on my journal. I am toying with the idea of including a calendar in my first few pages of my next journal though.
WHAT'S INSIDE?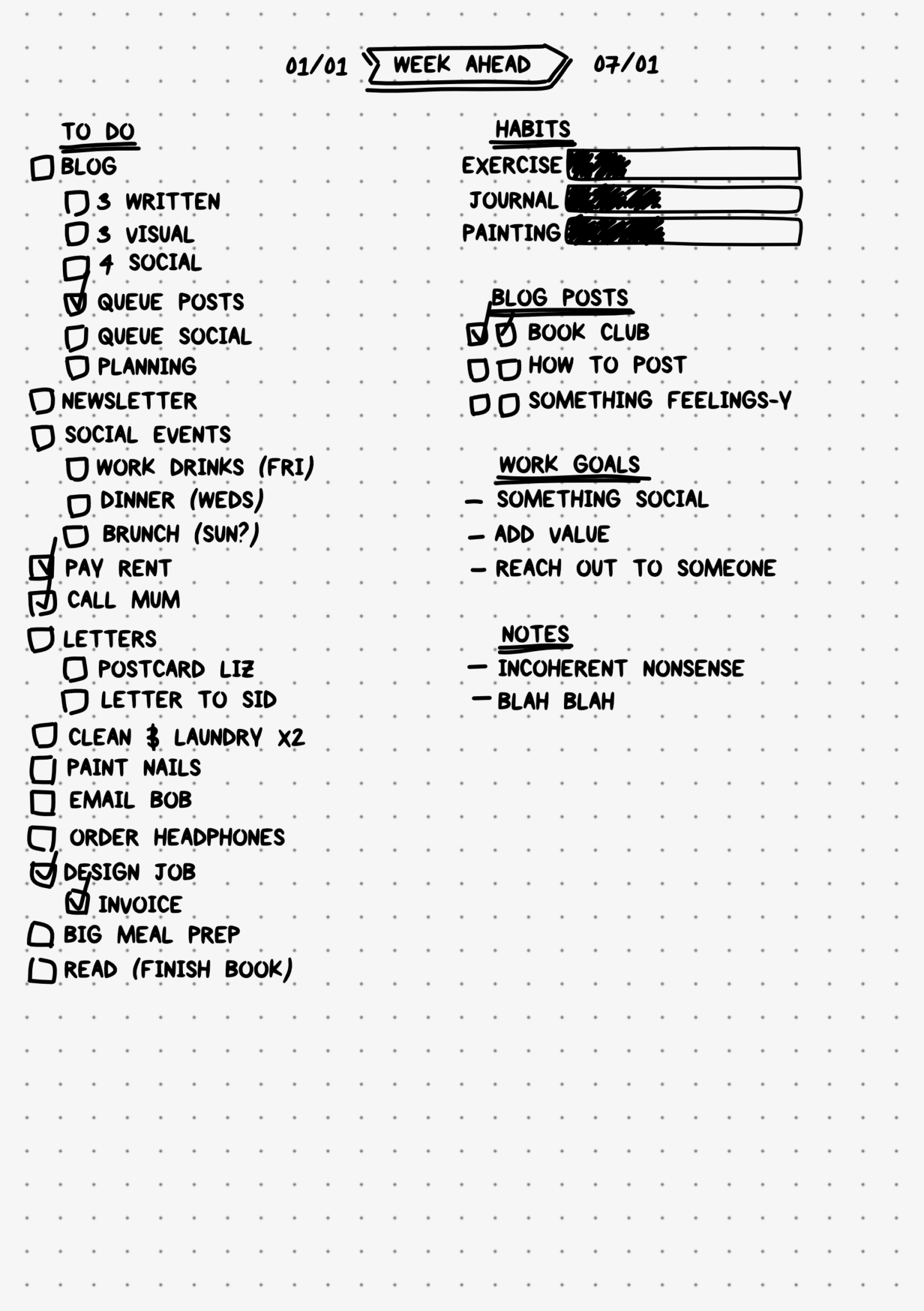 WEEKLY SPREAD
Every week I do a weekly spread with, surprisingly enough, a list of the things that I have to do that week. This takes up the whole left-hand side of the page. The right-hand side also includes a bar tracker for my habits (exercise, writing in my journal, and making something), a list of the blog posts I want to work on that week, my overarching work goals, and a little notes section. I give my week view a full page of its own because my to do list normally takes the full height of the page.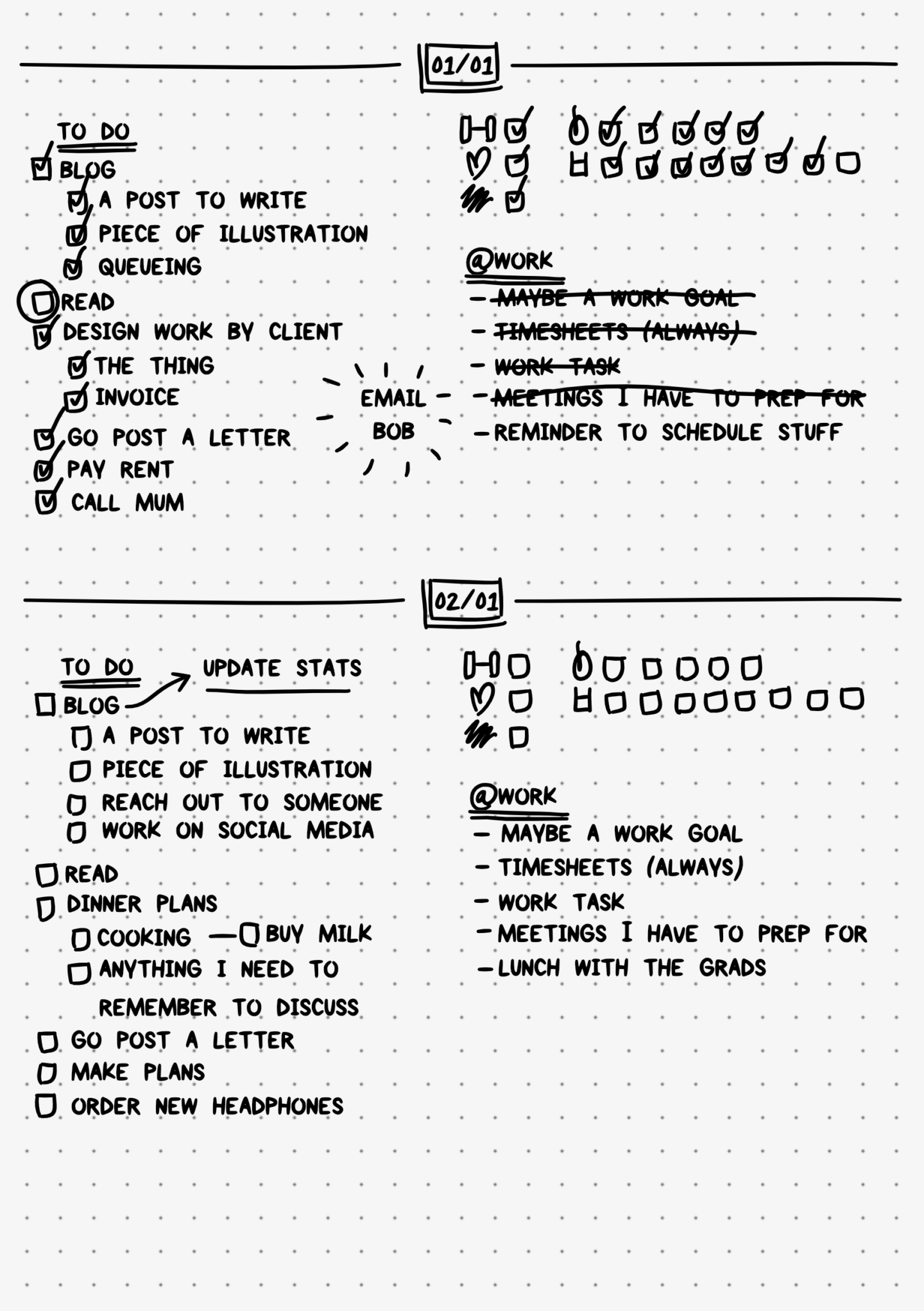 DAILY SPREAD
I can normally fit two daily spreads per side now that I'm at work every day and my personal to do list isn't as long. This means I get more use out my journal and my pages look fuller. Just as in the weekly spread, the left-hand column is a to do list. The right-hand column is habit tracking with tick boxes for my weekly habits plus making sure I eat enough veggies and drink enough water. Underneath my habits, I like to include a work to do list. I have a separate notebook for all of my rough work notes that I take in meetings or when I'm planning out presentations, so that work to do isn't normally too long. I usually have to put some kind of notes in the middle as well as I think of ideas or other things to add in.
DECORATION
When it comes to decoration I don't really have any. I box my dates and hand rule a line between days as you can see, and there are icons for my habits but otherwise I don't really decorate my bullet journal. I love seeing beautiful BuJos where people illustrate their weeks and include stickers and washi tape, but that's just not for me. My journal is just about sorting my head out and keeping things neat and simple.