A quick run down of some of the things that have been getting me through this autumn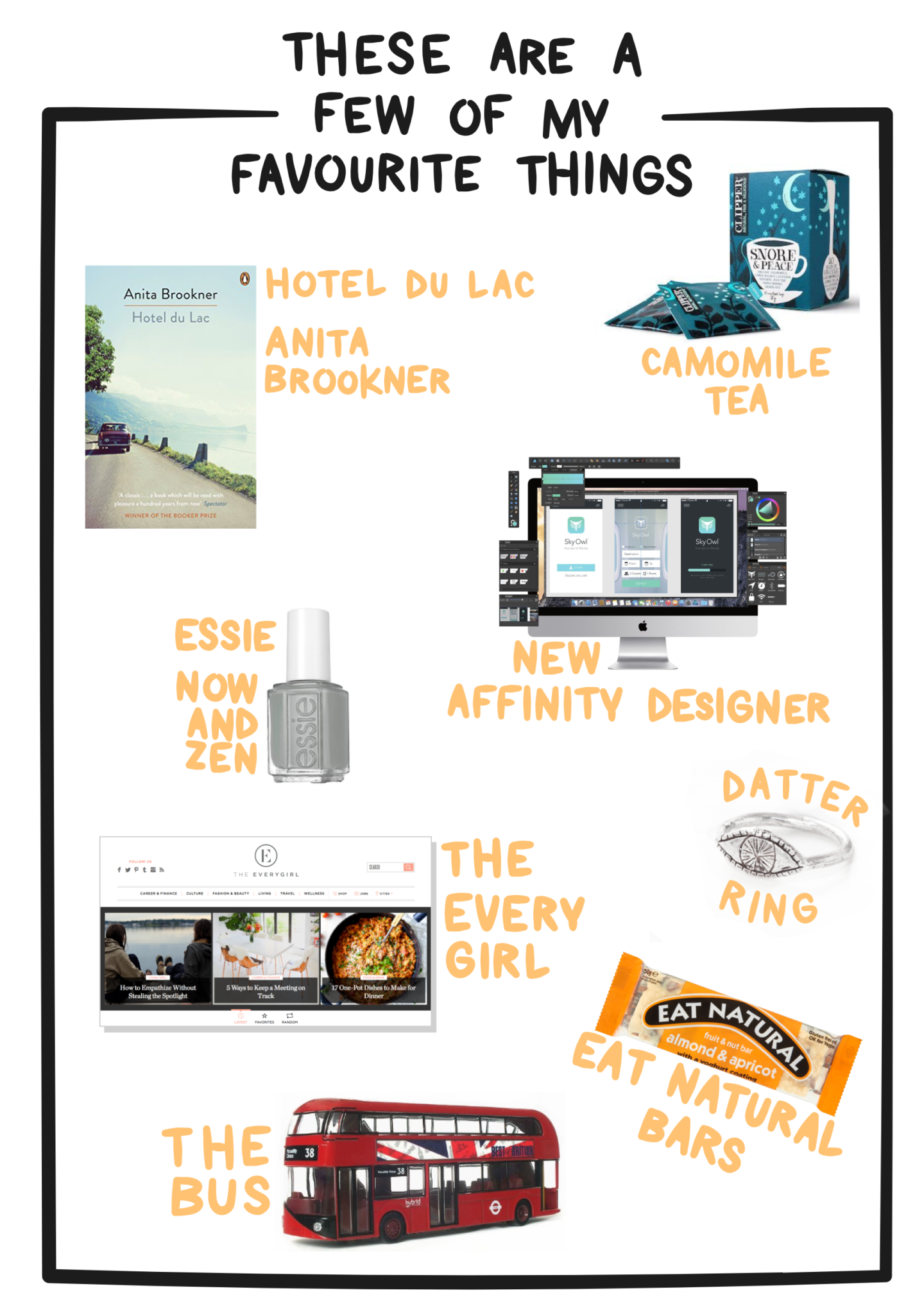 SNORE AND PEACE TEA FROM CLIPPER
I love camomile tea, especially in the autumn. This relaxing blend from Clipper is all organic and is has perhaps knocked my favourite, pure camomile tea off the top spot on my shelf with its added lavender and lemon balm.
HOTEL DU LAC BY ANITA BROOKNER 
This was the perfect escapism novel for the mood I've been in this autumn. It's a novel I got quietly swept up into featuring some romance and a holiday setting. While it's not too hard a read (think more Austen than Pynchon) Brookner throws in some really piercing psychological insights, and it reads really beautifully.
If you've read my blog before you'll know I love affinity designer. So unsurprisingly I'm absolutely love V1.5 and all of its new features.
NOW AND ZEN NAIL VARNISH FROM ESSIE 
This lovely sage green colour has been my favourite for the season, replacing Essie's Bordeaux from its perch. I feel like it's going to be part of my go to neutrals rotation for seasons to come too.
THIS WATCHFUL EYE RING FROM DATTER 
I've been a big fan of Kaye Blevgad's for a while and I've been wearing this protective hand ring for a few years now and I absolutely love it. I decided to take the plunge and get another, and I'm so glad I did. If you're in the market for some really interesting and well made jewellery definitely check Datter out, Kaye's just released a whole new line and I'm pining for the snake pin she's made.
The Everygirl has just had so many top articles recently, and they've tackled a lot of difficult and really important topics. Expect a more in depth review to come.
I am absolutely in love with the Eat Natural apricot, yogurt and almond bars. They are pretty much the only thing I want with my evening cup of tea, quite often beating out chocolate (not always though). They're super tasty and feel really indulgent if you're looking to change up your snacks.
THE BUS
By default the bus has become one of my favourites because I absolutely hate the tube. If I can manage to will myself to get up 20 minutes earlier I'll be taking swapping it out for the hellish rush hour underground commute.