Happy Galentine's Eve!
I love Parks and Rec. I've loved it from the moment I first binged it to every time I've come back when nothing else has quite compared.
I'd say I'm 90% Lesley (10% April) an assessment that has scientifically been verified by several Buzzfeed quizzes. So, it should come as no surprise that I think that Galentine's day should be an official national holiday. I say this even though I'm admittedly a little light on the lady friend front currently (hit me up gals). I mean what could be better than a holiday where ladies celebrate and support ladies over waffles?
Even though it has still yet to be officially recognised I wanted to share some ideas, and a couple of cards, to help inspire great Galentine's celebrations (not one of them involves buying a gift):
1. Embrace the traditional spirit of Galentine's and take your ladies out for brunch. It can be hard to put the effort in and actually get everyone together, so managing to have something as simple and tasty as brunch can feel like a special occasion – especially if there are mimosas involved. Top brunch spots in London include: Palm Vaults (everything pink and wonderful), Farm Girl (good for anyone with a restricted diet, but not boring at all!), Foxcroft and Ginger (damn tasty), Bronte (if you're feeling a bit posh).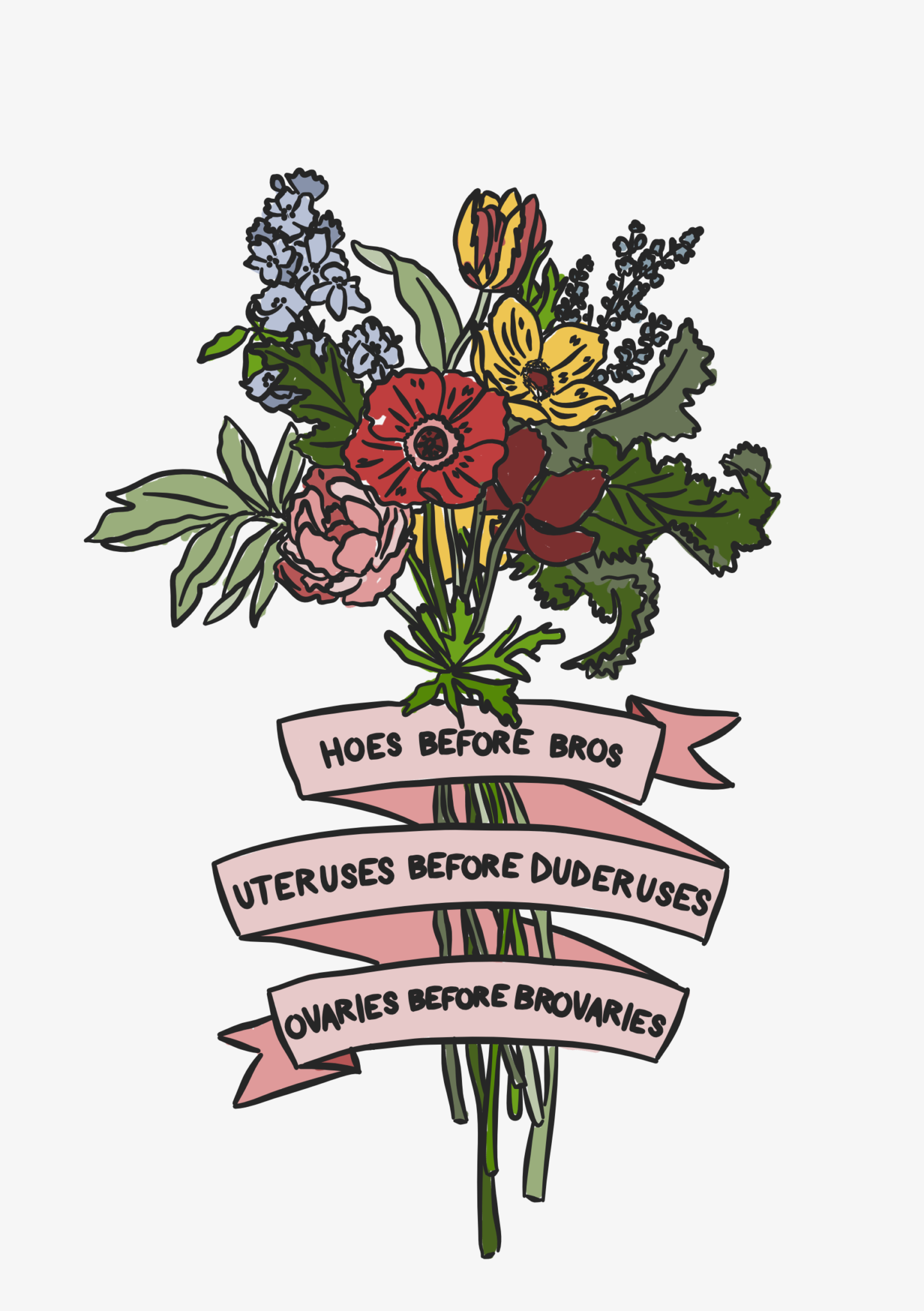 2. Print out this postcard and send it to a lady you love. There's something special about a handwritten card, they're a bit more personal. In a time when almost all of the post we receive is bills or ASOS orders bound to be returned, getting a handwritten card from someone we love is a real occasion. So, why not brighten your galentine's day and send her a postcard. I've done a lot of the heavy lifting, all you have to do is: print them off, write your message, put a stamp on it and drop it in one of those big red boxes. (I went a postcard because they're not as intimating as writing a full card, they're a bit more fun, and they're cheaper to send internationally.) You can print yours here!
3. Call your mother. When you bring up the idea of Galentine's day most people think of going out with their female friends. But let us not forget the ultimate gals who were there for us before we could even day the word gals who looked after us when we were sick or grumpily throwing tantrums in supermarkets, who had our backs even when we made the most questionable of pre-teen fashion choices. Taking the time to have a proper conversation with your mum, not just a text or a cursory email, but a proper conversation where you really listen to how they are, and let them know how much you appreciate them, can mean more than you realise. While you're calling your mother, why not reach out to all of those female relatives who you don't speak to enough. I know I for one don't call my grandma enough either.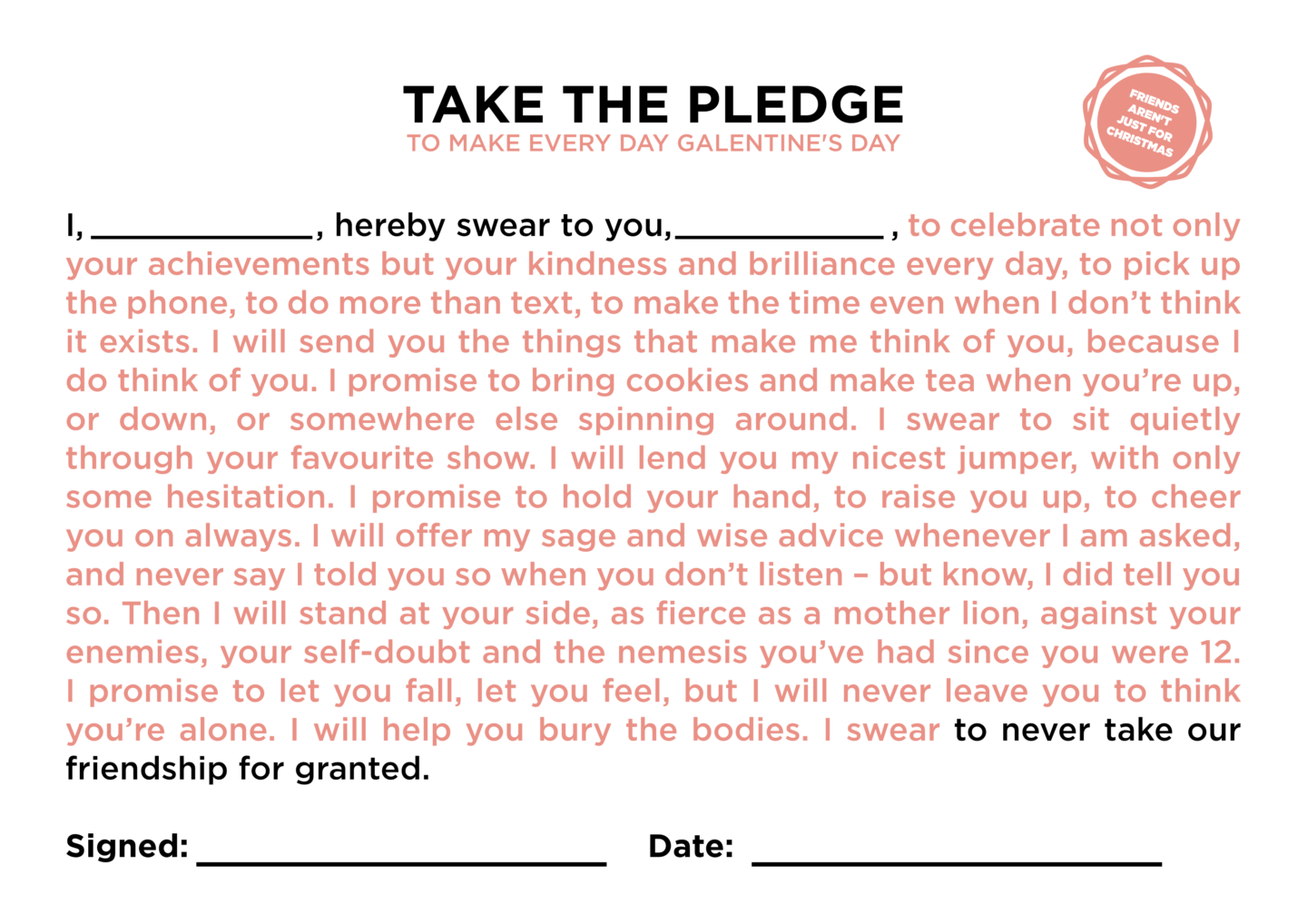 4. Pledge to Knopify your friendship for a year, and follow through. Just like puppies aren't just for Christmas, friends aren't just for Galentine's day. Use this contract to pledge to be the best friend you can be for the year ahead, and come back and review it next year. Don't just sign it and put it in a draw, stick to it. Tell your friends you love them more. Carve out the time to see them, to call them, to write to them. Email them that stupid article that made you think of them. Send them cookies if they're having a bad day. Make binders about your friendship. Be as fierce as Leslie Knope is about her female friends. Take the first step now, and print your copy of the contract.
5. Celebrate and support your gals across the globe by donating to a women's charity. There are so many women's charities out there that are in need of funding that it's impossible to list them all or pick out the most important ones here, but The Life You Can Save has a useful list, The Women's Resource Centre is a network of women's charities across the UK, Woman Kind supports the rights of women and girls across the world as do Women for Women International. There are so many more so you can easily find a charity that supports something close to your heart.
Who are going to be your galentines this year? What are you doing to celebrate?