I knew I wanted to create some Halloween content again this year. But then I realised that I'm not really a Halloween person, and I wanted to make something that I would actually use. I won't be going out, I'm unlikely the decorating my room (we never celebrated Halloween at home, okay?) and I'm not doing any Halloween baking. So I thought I'd share with you my perfect Halloween night in, featuring some great movie recommendations, a recipe and a free printable.
MOVIES TO WATCH
I'm not into scary movies so these are all family friendly, and suitable for all hours of night and day.
1. The Addams Family (Wednesday is one of my personal heroes)
2. Hocus Pocus (a classic)
3. Halloweentown (I mean it has Halloween in the name, and if you really want to make a night of it you can watch the sequels)
4. Beetlejuice (a childhood favourite)
5. Ghostbusters (new or original, they're both fun)
HOMECRAFTS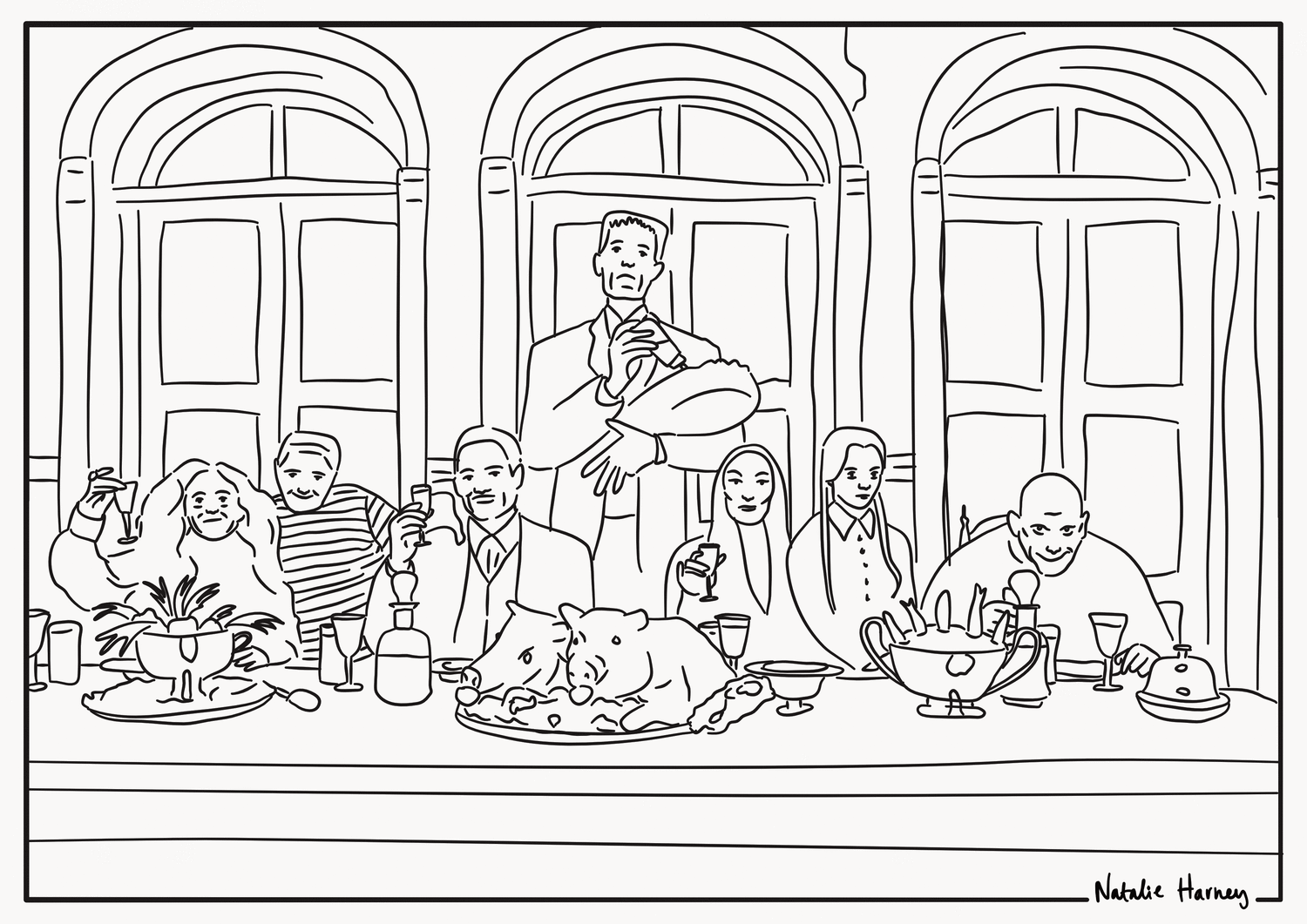 I created a little Addams Family inspired colour in sheet to keep your idle hands busy as you watch a movie, to distract a child or relative or just to use as a festive background.
You can download a free pdf of the sheet here (and if you subscribe to my fortnightly newsletter in the sidebar there are loads more freebies to come)
RECIPE
Chilli is one of my favourite autumn time foods full stop. But this is a special Halloween version, ft. some pumpkin because if you can't carve them you gotta eat them.
500g Mince (beef, turkey, or Quorn depending on your preference)
1 Onion, diced
2 Cloves, garlic crushed
1 Medium pumpkin or you can use a butternut squash if you can find one
1 Carton black beans
1 Tin kidney beans (plain or in chilli sauce)
2 TBSP Tomato Puree
1 TSP Cumin
1 TSP Coriander
1/2 TSP Smoked paprika
1/2 – 1 TSP Chilli flakes
Serve with rice, plus cheese and sour cream if you eat dairy and are feeling indulgent
Open your pumpkin or half your butternut squash, scoop out the seeds, rub in oil and roast at 200 degrees for 45 minutes or until soft

Fry your onion, garlic and spices

Fry your mince

Take your pumpkin/squash out of the oven, scoop out the flesh and give it a little mash

Add the pumpkin/squash, tomato puree, and beans to the mix and leave to simmer for 10 minutes

Serve (in the pumpkin if you're feeling fancy)