I'm a complete homebody so I thought it was about time that I did a mini-series about my room. This is the longest time I've had a single space to call my own since I lived at home. I live in a shared house, so my room is the only space that I can really call my own, and now I've been there for a year it really is my own. I've dismantled and built furniture, decorated, and even filled the whole space with the scent of lavender and tea tree.
I make my one room work pretty hard. Because it is my only real space, it has to do everything. I'm very lucky that I have a room that's big enough to be able to handle everything I want from it. If I'm honest I didn't expect to have quite so much space in London, but I'm so so glad that I do.
My room is laid out in sections by use. That's in part by design and in part because of where the immovable elements of the room are, but more to come on that in a future post! There's a sleeping area, my semi-bathroom, a living room, and my office. I've drawn a little diagram to help give a little context to the tour, and because I always struggle to join up YouTube room tours where the camera cuts around. I also just really wanted to draw a semi-architectural diagram.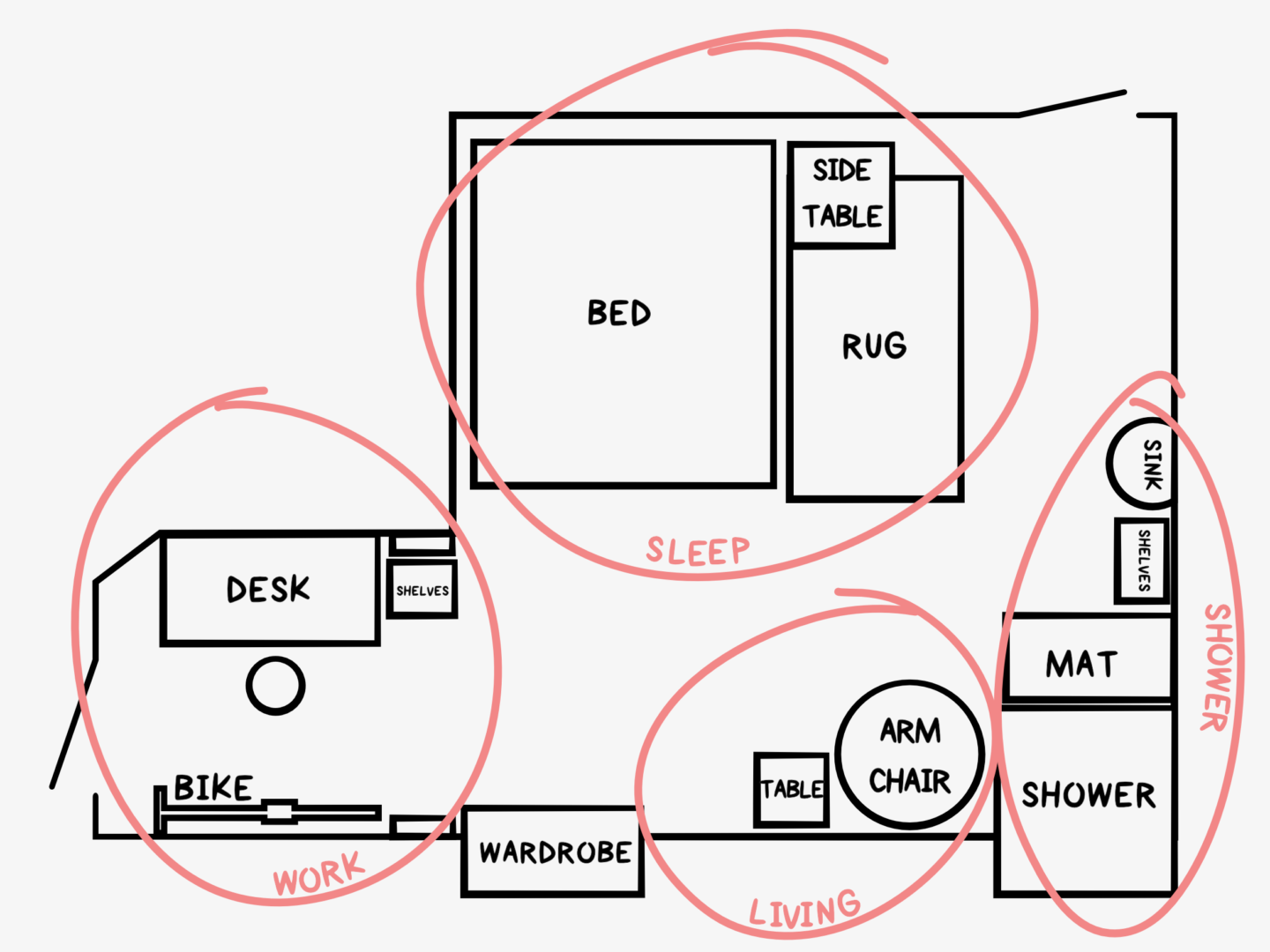 I've decorated the space in as much white, and light neutral colours as I can to try and capitalise on the small amount of light I have in my room and to make the space feel even bigger and more calming.
SLEEP
My bed is my favourite place in the world. Moving to London was the first time I had a double bed in my life and let me tell you it was a glorious step up. The blanket my grandma crocheted for me sits at its foot, and a sensible, I think, number of decorative pillows sit at the top when it's made including my sleepy sloth friend. The side table is often home to too much rubbish, but when I have it in check it's just my light, some of the jewelry I don't wear every day, my book and a few other little bits. The rug on the floor is something I've had since I was at Oxford, and I really think it makes the space feel homelier. It's a lovely grey pattern, that's just subtle enough for my liking.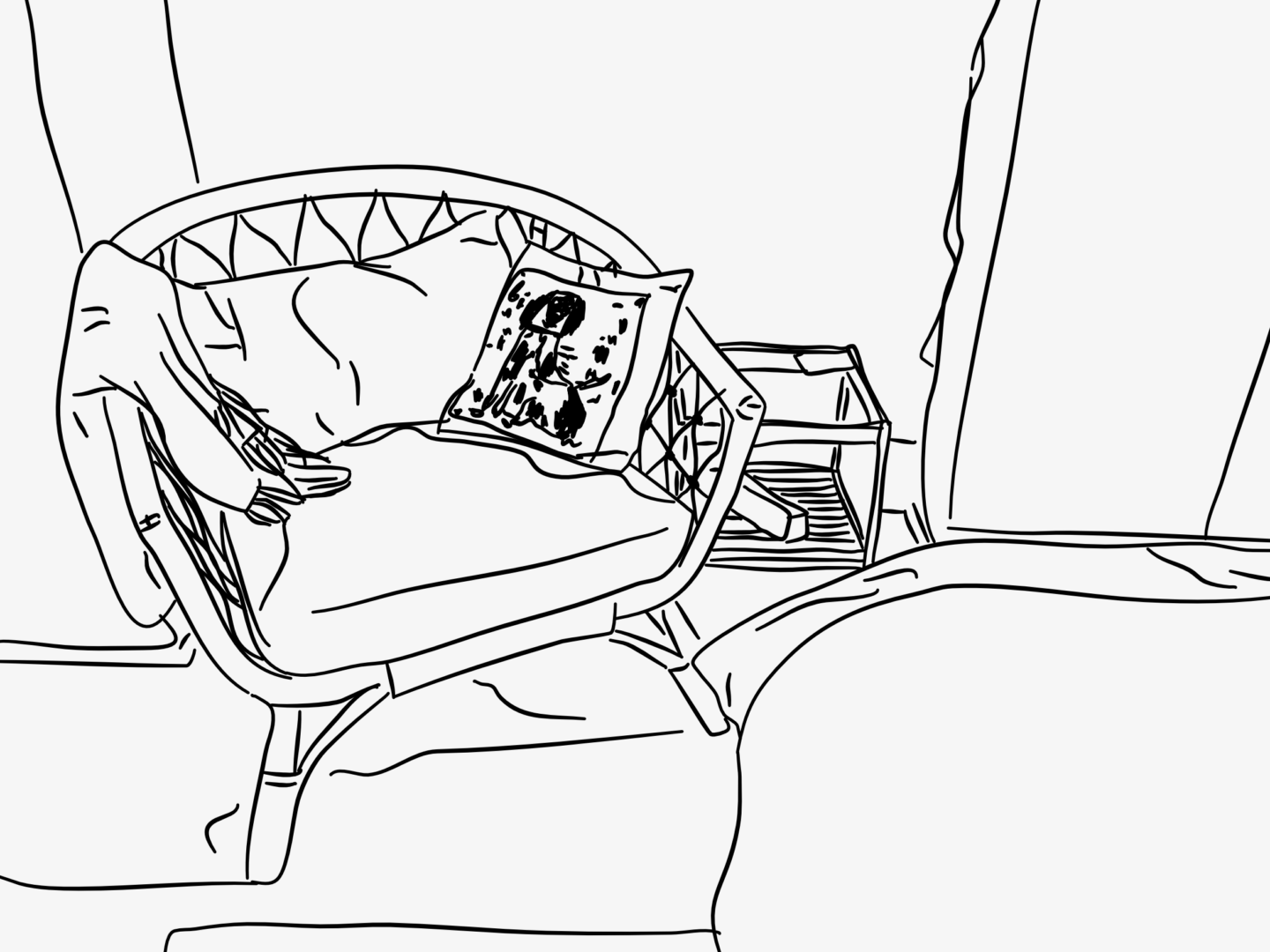 LIVING
My little living area is a relatively new development and is in a bit of a thoroughfare tucked under the mantle of an old fireplace. On the mantel, I have all of my books (I'm trying not to let the collection expand too far), some art, and either a candle or my oil burner. I also have a string of fairy lights that I got for Christmas last year spread across the mantel which I turn on for my evening/relax lighting. The star of the show though is my big rattan chair. This is my watch TV or read spot and I absolutely love it. It's snug and cozy, but still light and airy enough to go with the room without being imposing. The side table next to it is perfect for tea and biscuits as well as storing a few bits including my speaker and my journal.
SHOWER
I have a strange shower set up in my room. I have a shower and a sink to myself, but no toilet, and no division from the rest of the room. I'm not complaining though. I love having a shower to myself, knowing I can get in whenever I want and hang out in my towel for as long as it takes for me to procrastinate. I have an open shelving unit with all of my toiletries (it's effectively a medicine and makeup cabinet) and my spare towels, as well as a few selected cleaning supplies. It's a bit of a pain to clean and dust but it does the job.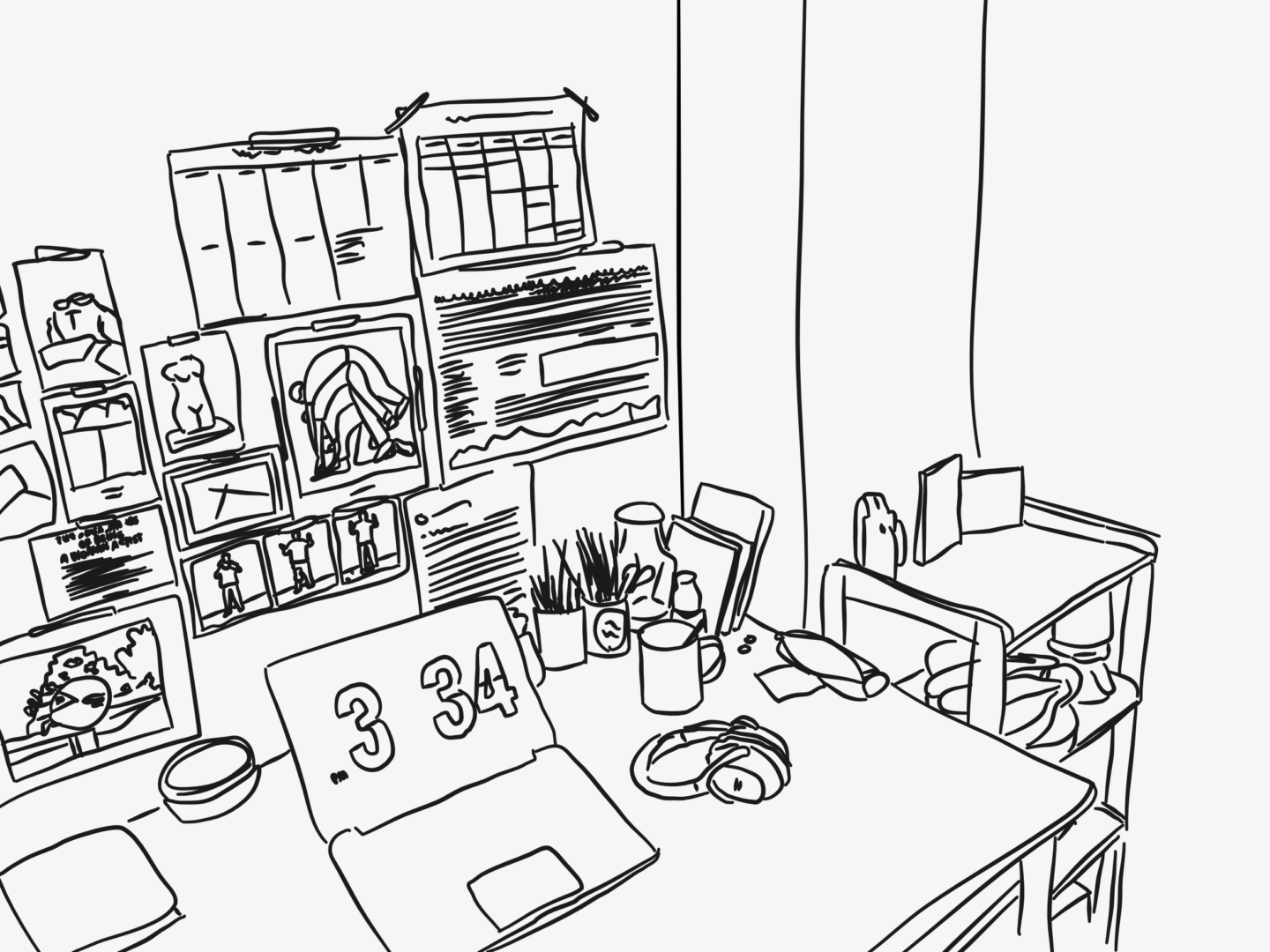 WORK
I love that my workspace is physically divided off from the rest of my room. This little space contains my desk, chair, and all of my work materials, as well as acting as storage for my bike and laundry dryer. This area has the best (and only) natural light with the patio door and skylight, which makes it the ideal working space. The main feature of the area is my desk, but I also have a little open shelving unit that helps divide the space and contains a random assortment of items from photos, to tea, to fruit, to washi tapes, my collection of letters and spare paper. My "office" is also the most decorated area of the room with my prints and postcards all up on the walls, as well as my resolution tracker.
Keep your eyes peeled for the next post in this miniseries all about my favourite design pieces in my room, which will be here in the next few days.