There are so many reasons that I love Christmas. It's cold and crisp. There are twinkly lights and sparkles everywhere. The food is so good. There's so much great music. But today I want to talk about the joy of the organisational challenge that is Christmas.
You all know that I'm an organisation nerd. I love a good to do list, and Christmas can come with so many to-dos if you want it to. Now I'm not saying you need to get Monica from Friends level intense. But I feel like most of us have a few more social occasions and a few more jobs to do than normal, and it takes a little bit of planning to keep on top of it all.
So here are my top tips, or rather the things that I'm super excited to get going with, to keep control of the holidays. There's also a cute little December calendar you can print and keep at the bottom of this page.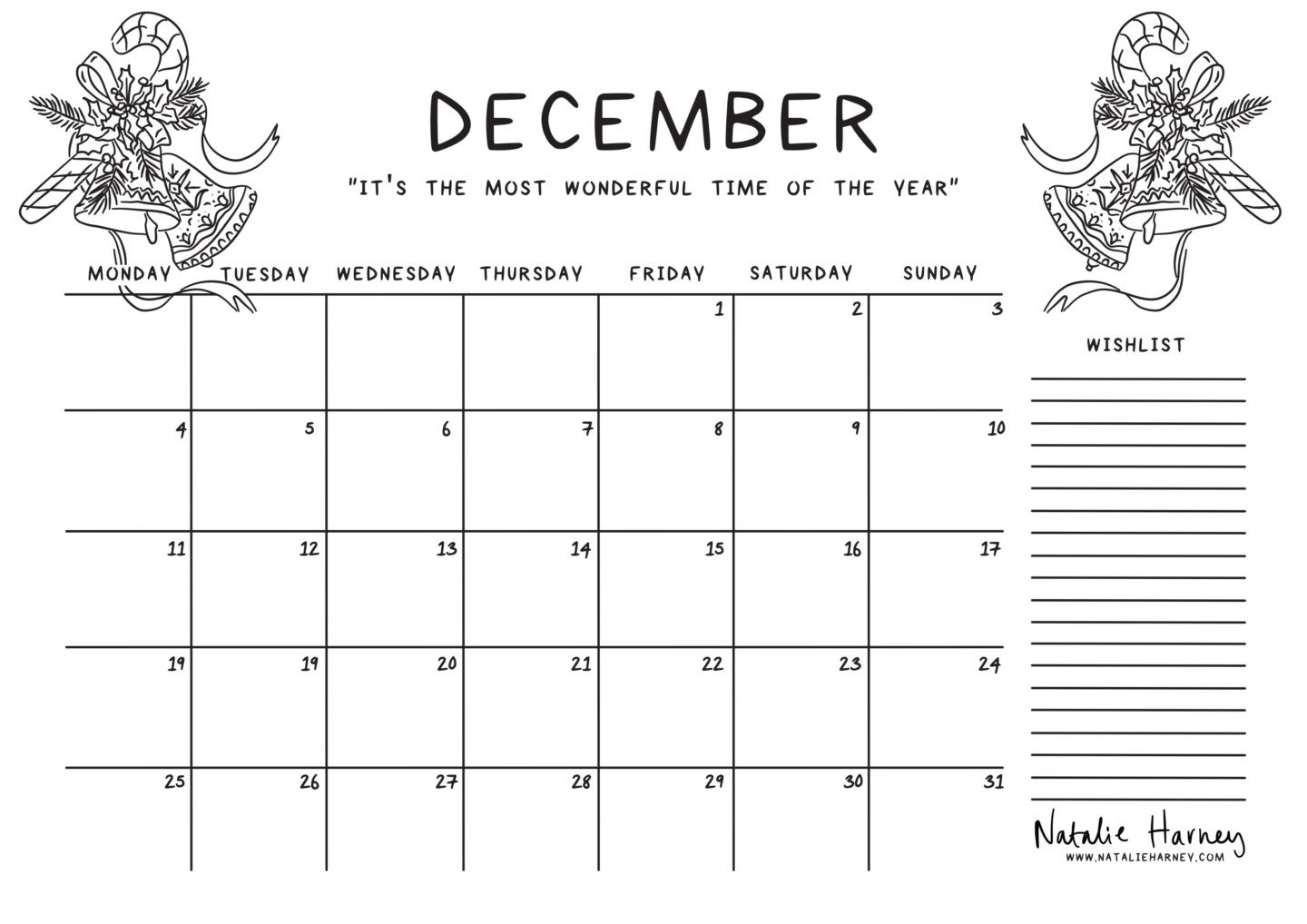 GET YOUR DATES IN ORDER
First things first you need to know what's happening when. It's super basic but it works. As far as possible mark down all of the things you have to do. This year I'm dividing up the must dos and the can dos so that if I'm feeling a bit overwhelmed I can cut something. Knowing when things have to be done, and when you're out and about from the start should help you get a little bit of balance, and ensure you don't try to cram everything in all at once. This is where my handy illustrated calendar comes in.
SCHEDULE IN EXTRA TIME
Whatever your plan is add in some buffer days for things to go wrong, for gifts not to ship, for you to get that inevitable cold. Also, make sure you plan in some time for you, it's a season to be enjoyed not sprinted through as far as I'm concerned.
WRITE YOUR CARD LIST
Early in the season (aka I did this in early November because I got way too excited) get a list together of all of the cards and bits and pieces you'll have to send out. That means you can buy the right amount, plus a few spares. It also means you can work out when you need to send everything out, the further away it's going the longer it's going to take. Also, you might want to stay tuned for my card writing guide in the next week or so!
MAKE YOUR GIFT GUIDE
Along with your card guide starting your season with a list of gifts you want to buy or at least people you want to buy for can make the month feel like it's going a little smoother. I'm the kind of person who likes to have a plan before they head out to the stores/start buying online, but you should just go where the Christmas muse takes you. As with cards, I'd always recommend having an emergency secret Santa style gift in the wings too. This year I'm making hampers which has taken a bit of extra planning too.
GET A TO DO LIST TOGETHER
Again, this is a very obvious one but no planning session is complete without a good old to do list. Write down everything that has to happen for you to feel like you're on top of the festivities. If you have a lot of different things to do I'd suggest dividing them up by time rather than just subject, I've left cooking prep on a separate list and then realised I hadn't actually bought anything I needed to beforehand.
MAKE A WISH LIST
As I said, Christmas is to be enjoyed. This year I've made a wish list of things I'd like to do from markets I'd like to visit, to movies I want to watch, and walks I want to go on, to make sure that when the new year arrives I feel like I've had the Christmas I wanted. My calendar has a little list space on the side where you can write these in, so you're always reminded to make time for the fun things when you're looking at your schedule.
Download the calendar here! If you use it please do let me know, I'd love to know where it gets to in the world.