Putting up Christmas decorations is pretty much my favourite seasonal activity. I love the planning, the reshaping my space, and getting to go hard on the sparkle. But decorating in a small space, especially one you rent rather than own, can pose some challenges, so I thought I'd share some of the workarounds I've found when doing my own decorating.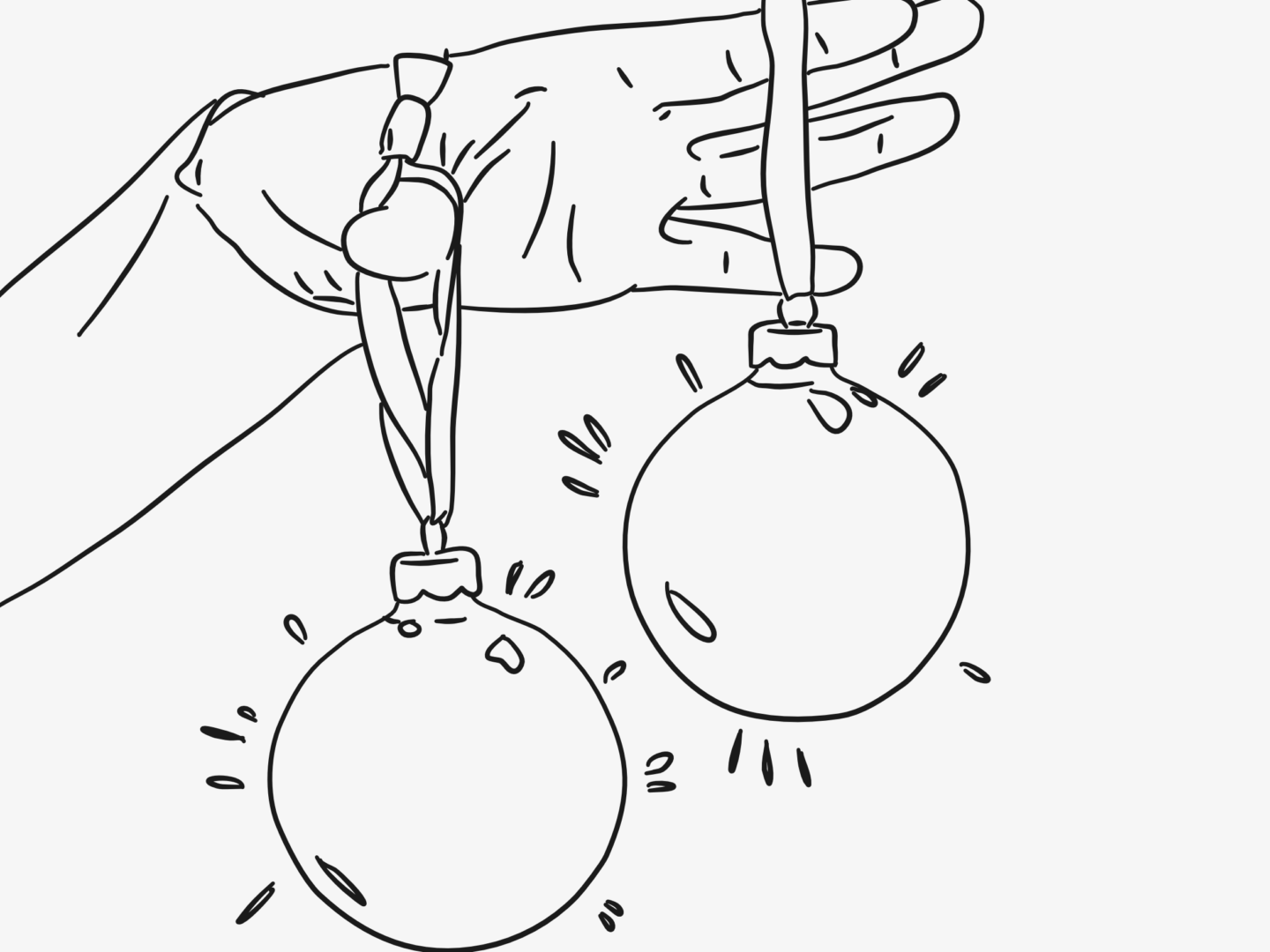 Play with scale
If your space is limited playing with scale can be a really fun way of tricking your eye into thinking you've got a bit more. Try using miniature versions of certain decorations. I used mini baubles on my tree last year and because it ended up having the proportions of a family tree, it made my room feel so much bigger and better decorated as a result. Or try having really big versions giant fairy lights or ornaments can add a touch of over the top fun.
Washi tape, Blu Tac, and Command Hooks are your friend
This comes as standard, but you want things you can take down again easily if you're in a rented space. I mentioned the wonders of washi tape (way stronger than you think), blu tac, and command hooks (way easier to take down than you think) in my room design post because they're great all year round, but they really come into their own when you want to decorate. Use them to stick up your lights, display cards, or give that decorative pine cone the attention it needs.
Fairy lights
Put fairy lights anywhere you can. They're wonderful. Lighting can make such a big difference to how a room feels. They can give your room a lovely magical twinkle, which you can enjoy long after the 12 days are over. Pro tip: where you can avoid the battery powered ones, they never last that long (unless you have recommendations – share below!) and you can get the plus in ones super cheaply now.
Use what you've got
Knowing that I'm not going to be in this room forever, I'm always conscious of the amount I will have to pack up. Plus I only have limited storage space. If you're in a similar situation it's great to reuse anything you've already got. For example, I'll be dressing up my other plants as well as a tree and using string I already have to hang bits and pieces. Making displays out of any cards you receive is a lovely way to do this too. If you're on the hunt for DIYs, there are literally thousands on Pinterest or throw it in as a search term to Bloglovin or something similar. In the same line of thought, if you're buying things trying and find bits you can use when it isn't Christmas. My fairy lights (sorry to keep mentioning them) were bought for Christmas last year but I've used them all year, and my festive tea light holder gets turned around and used most weekends.
Think about your tree
A Christmas tree is a must for me. It's the first thing I that comes to mind when I think of the season. It's at the core of any Christmas decoration planning. It's also quite hard fit into a smaller space. When it comes to trees you have 2 options, artificial or real. Artificial trees have the benefit of being cheap, reusable and available in pretty much any size you might need. But this year (like last year) I will be going for a real tree. Small trees are much easier to find than I thought, and if you get one in a planter you can rehouse it outside when the season is over, which was why I liked the idea – it means you don't have to find somewhere to save a box filled with branches. You also get that lovely evergreen smell. But you do have to be careful to get one that won't cover your room with needles – it's worth the extra for the vacuuming hassle you save.
What are your Christmas decoration tips?